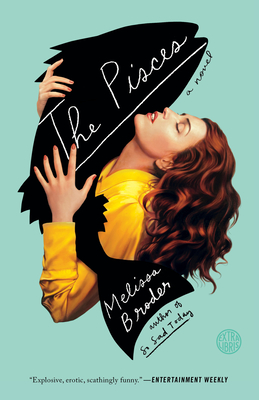 The Pisces
A Novel
Paperback

* Individual store prices may vary.
Other Editions of This Title:
Digital Audiobook (4/30/2018)
Hardcover (5/1/2018)
Description
LONGLISTED FOR THE CENTER FOR FICTION FIRST NOVEL PRIZE
LONGLISTED FOR THE WOMEN'S PRIZE FOR FICTION

"Bold, virtuosic, addictive, erotic – there is nothing like The Pisces. I have no idea how Broder does it, but I loved every dark and sublime page of it." —Stephanie Danler, author of Sweetbitter 
 
Lucy has been writing her dissertation on Sappho for nine years when she and her boyfriend break up in a dramatic flameout. After she bottoms out in Phoenix, her sister in Los Angeles insists Lucy dog-sit for the summer. Annika's home is a gorgeous glass cube on Venice Beach, but Lucy can find little relief from her anxiety — not in the Greek chorus of women in her love addiction therapy group, not in her frequent Tinder excursions, not even in Dominic the foxhound's easy affection.
 
Everything changes when Lucy becomes entranced by an eerily attractive swimmer while sitting alone on the beach rocks one night. But when Lucy learns the truth about his identity, their relationship, and Lucy's understanding of what love should look like, take a very unexpected turn. A masterful blend of vivid realism and giddy fantasy, pairing hilarious frankness with pulse-racing eroticism, THE PISCES is a story about falling in obsessive love with a merman: a figure of Sirenic fantasy whose very existence pushes Lucy to question everything she thought she knew about love, lust, and meaning in the one life we have.
Praise For The Pisces: A Novel…
ADVANCE PRAISE FOR THE PISCES:
 
"Funny and dark, vicious and tender, The Pisces is a sexy and moving portrait of a woman longing for connection and pleasure in our strange and alienating world. I can't stop thinking about it."—Edan Lepucki, author of Woman No. 17

"The characters in The Pisces are so finely drawn and palpably real. These are some of the most real, relatable merman sex scenes I have ever read in any book."—Megan Amram, TV Writer and author of Science...For Her!

"The Venice Beach of The Pisces is familiar at first, but it quickly transforms into a new place in which fantasy can become reality overnight. I love how Melissa Broder navigates the anticipation of lust, the consequences of love, the lure of self-destruction, and the indecision between what seems right and what seems crazy. This book is for anyone that's wondered where their longing will take them next."—Chelsea Hodson, author of Tonight I'm Someone Else

"I've long been a Melissa Broder fan but I had no idea a fabulist novelist lived in her too. I've never quite read anything like the surreal merman romantic comedy that is The Pisces! Broder has always been a simultaneously out-of-this-world & very-much-in-this-world poet/comic, so it's a wild delight to watch her transition to modern-day mythologist.  Sappho and Tinder, mermaid porn and nervous breakdowns, the banal and the bananas gloriously litter this uncanny marvel that is pretty impossible to put down."—Porochista Khakpour, author of Sick: A Memoir and the novels The Last Illusion and Sons & Other Flammable Objects

"Starting with Sappho and ripping through the Los Angeles lovelorn, this exquisite story of romantic obsession deftly blends existential terror with sexy surrealism for a one-sitting absolute thrall. This book has my number so hard, I'm waiting for its midnight texts."—Amelia Gray, author of Isadora

"Melissa Broder has officially written the modern myth: a hilarious, surreal tale of addiction and academia, depression and desire, mania and melancholy. Through the eyes of our merman-obsessed anti-heroine, we become attuned to both the poignancy and pointlessness of the human experience—from illusory ambition to unruly erotic fantasy. (Broder writes sex like no one else I've read.) The Pisces will have you LOL-ing while you're longing while you're cringing while you're philosophizing—this is what it feels like to exist, and to attempt love, in the deluded torpor that is our time."—Molly Prentiss, author of Tuesday Nights in 1980 

"By fearless and perverted, full of desolation and of hope, The Pisces is a novel that delves head on into the many dark, absurd facets of human connection and coping in search of meaning and comes back bearing fantastic flashes of a twisted rom-com surreality only Melissa Broder's gemstone-studded brain could conjure up."—Blake Butler, author of There Is No Year     

 
PRAISE FOR SO SAD TODAY:
 
"These essays are sad and uncomfortable and their own kind of gorgeous. They reveal so much about what it is to live in this world, right now."—Roxane Gay
 
"If Melissa Broder weren't so fucking funny I would have wept through this entire book. Love, sex, addiction, mental illness and childhood trauma all join hands and dance in a circle, to the tune of Melissa's unmatched wit and dementedly perfect take on this terrifying orb we call home."—Lena Dunham
 
"At once devastating and delightful, this deeply personal collection of essays (named for Broder's popular Twitter handle) is as raw as it is funny."―Cosmopolitan

"If her Twitter account is a darkly comic 'creative way to distract myself and cope,' as [Melissa Broder] describes it, then her essays are deeper excavations of that same mind."―Elle

"Her writing is deeply personal, sophisticated in its wit, and at the same time, devastating. SO SAD TODAY is a portrait of modern day existence told with provocative, irreverent honesty."―Nylon

"Instead of supersizing her angsty tweets, Broder presents a dizzying array of intimate dispatches and confessions...She has a near-supernatural ability to not only lay bare her darkest secrets, but to festoon those secrets with jokes, subterfuge, deep shame, bravado, and poetic turns of phrase."―New York Magazine

"It would have been easy for Broder to stay anonymous and simply publish a book of @SoSadToday's most popular tweets, but instead, she chose to challenge herself in what turned out to be a triumph of unsettlingly relatable prose."―VanityFair.com

"Under her beloved Twitter persona So Sad Today, Broder is probably the Internet's most powerful merchant of feelings."―GQ.com

"What a decadent, hilarious, important, devastating book this is. SO SAD TODAY will explode on impact in your mind."―Jami Attenberg, author of The Middlesteins 

"With irreverence and wit, Melissa Broder confronts the most hidden and grotesque parts of herself...Reading her, it seems that we're all fucked-up, but it's because of this that we connect with each other, fall in love, find contentment, and maybe even a little happiness."―Sarah Gerard, author of Binary Star

"Irreverent, ballsy, impossible to put down. With courage and humor, Broder shows us that the underbelly of self-awareness is the existential sads."―Courtney Maum, author of I Am Having So Much Fun Here Without You

PRAISE FOR LAST SEXT:
 
"The poems of Melissa Broder pull off a strange and compelling trick: to exist meatily, viscerally, and even bloodily at the center of a void. Holes thump through the pages, blankness crunches bone, zeros growl with hunger. Each line is a little heartbeat hurling down the abyss."―Patricia Lockwood, author of Priestdaddy

"Melissa Broder is absolutely one of the most important poets writing today. Her poems eviscerate the reader with their misty and murky charm, with their ability to say what is and not what should be, for their love of life and the sensual, for their knowledge of what it is like to be a person right now. Last Sext is a master work, a text of brilliance written in a dusky field, for all of us. 'Can you feel it?' is what it asks us. And we must answer: for chrissakes, of course, yes."―Dorothea Lasky

"Broder's poems offer a postmodern twist on the confessional, and they push for action in the face of despair."―Publishers Weekly


Hogarth, 9781524761561, 304pp.
Publication Date: February 5, 2019
About the Author
Melissa Broder is the author of the essay collection So Sad Today and four poetry collections, including Last Sext. Her poetry has appeared in POETRY, The Iowa Review, Tin House, Guernica, and she is the recipient of a Pushcart Prize. She writes the "So Sad Today" column at Vice, the astrology column for Lenny Letter, and the "Beauty and Death" column on Elle's website. She lives in Los Angeles.