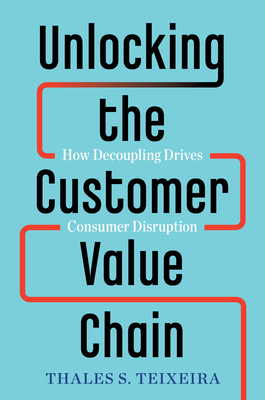 Unlocking the Customer Value Chain
How Decoupling Drives Consumer Disruption
Hardcover

* Individual store prices may vary.
Other Editions of This Title:
Digital Audiobook (2/18/2019)
Hardcover, Korean (9/30/2019)
Description
Based on eight years of research visiting dozens of startups, tech companies and incumbents, Harvard Business School professor Thales Teixeira shows how and why consumer industries are disrupted, and what established companies can do about it—while highlighting the specific strategies potential startups use to gain a competitive edge.
 
There is a pattern to digital disruption in an industry, whether the disruptor is Uber, Airbnb, Dollar Shave Club, Pillpack or one of countless other startups that have stolen large portions of market share from industry leaders, often in a matter of a few years.

As Teixeira makes clear, the nature of competition has fundamentally changed. Using innovative new business models, startups are stealing customers by breaking the links in how consumers discover, buy and use products and services. By decoupling the customer value chain, these startups, instead of taking on the Unilevers and Nikes, BMW's and Sephoras of the world head on, peel away a piece of the consumer purchasing process. Birchbox offered women a new way to sample beauty products from a variety of companies from the convenience of their homes, without having to visit a store. Turo doesn't compete with GM. Instead, it offers people the benefit of driving without having to own a car themselves.

Illustrated with vivid, indepth and exclusive accounts of both startups, and reigning incumbents like Best Buy and Comcast, as they struggle to respond, Unlocking the Customer Value Chain is an essential guide to demystifying how digital disruption takes place – and what companies can do to defend themselves.
Praise For Unlocking the Customer Value Chain: How Decoupling Drives Consumer Disruption…
"Thales Teixeira brings a brilliant and incisive intellect—blending fundamental insights with practical guidance—to the urgent question of digital transformation. In Unlocking the Customer Value Chain, he gives us a roadmap for winning the right customers, and for keeping them, amidst the vast wreckage of destroyed business models. Fresh, smart, and strategic—a worthy read!"  
-Jim Collins, author of Good to Great, co-author of Built to Last

"Digital Disruption has been greatly misunderstood. In Unlocking the Customer Value Chain, Thales Teixeira demystifies some of the misconceptions and, more importantly, creates a generalized framework for executives in virtually any industry to understand and respond to disruptors using a customer-centric approach."
-John Quelch, Dean of the Miami Business School and Leonard M. Miller University Professor and Vice Provost, University of Miami

"No company can succeed today without being customer-centric—agile enough to recognize the weak signals that customers' expectations are evolving, often in a non-linear fashion and adapt to them.  Thales Teixeira provides a fresh perspective and framework for making tough choices about how to compete in today's competitive environment of digital disruptive."
-Professor Linda A. Hill, Harvard Business School, co-author of Collective Genius
 
"Very practical insights into understanding a customer-centric, not a company-centric, view of the experiences and the expectations of consumers who are shopping today.  Professor Thales Teixeira brings simplicity and robust research to these concepts – a must read for marketers."
-Brigitte H. King, Chief Consumer Officer, L'Oréal Americas

"HBS professor Thales Teixeira shows how startups upend the ways in which people shop and buy.  The great news is that it is all predictable.  In Unlocking the Customer Value Chain, he offers a clear roadmap to understand how digital disruption takes place — and what companies can do to hold onto their valued customers."
-Niraj Shah, co-founder and CEO of Wayfair

"Necessary reading for all of us being disrupted and hoping to become challengers again."
-Jorge Paulo Lemann, co-founder of 3G Capital

"Teixeira addresses a critical and often overlooked point: Disruption is all about making the consumer's life easier. Technology is only a means to that end."
-Jan Bayer, President of News Media and Executive Board member of Axel Springer

"Disruption need not be fearsome for truly customer centric incumbents, who understand and can effectively mitigate pain points on customers' value chains. Disruptors who attack incumbents' blind spots or ineptness in addressing clients' pain points can quickly decouple and gain market share. Prof. Thales Teixeira's new book is essential reading for both alert incumbents and aspiring disruptors."
-Raymond Ch'ien, Chairman of Hang Seng Bank
Currency, 9781524763084, 352pp.
Publication Date: February 19, 2019
About the Author
Thales Teixeira is the Lumry Family Associate Professor of Business Administration at HBS. His work has been published widely in scholarly journals such as Journal of Advertising Research, Journal of Marketing Research, and Marketing Science, as well as in Forbes, the Economist, the New York Times, and Harvard Business Review. Before joining HBS, Teixeira consulted with Microsoft, HP, and Prudential, and he has given stragetic counsel to Nike, Unilever, and countless tech startups.