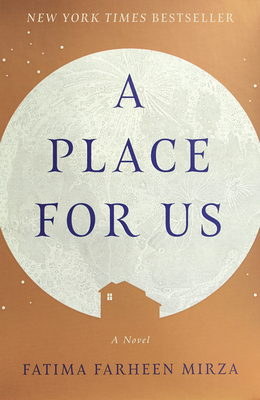 A Place for Us
A Novel
Hardcover

* Individual store prices may vary.
Other Editions of This Title:
Digital Audiobook (6/11/2018)
Paperback (3/5/2019)
Paperback, Large Print (5/24/2019)
Description
AN INSTANT NEW YORK TIMES BESTSELLER • NATIONAL BOOK AWARD "5 UNDER 35" NOMINEE • NEW YORK'S "ONE BOOK, ONE NEW YORK" PICK
 
Named One of the Best Books of the Year: Washington Post • NPR • People • Refinery29 • Parade • BuzzFeed
 
"Mirza writes with a mercy that encompasses all things."—Ron Charles, Washington Post
 
Hailed as "a book for our times" (Christiane Amanpour), A Place for Us is a deeply moving and resonant story of love, identity, and belonging.


As an Indian wedding gathers a family back together, parents Rafiq and Layla must reckon with the choices their children have made. There is Hadia: their headstrong, eldest daughter, whose marriage is a match of love and not tradition. Huda, the middle child, determined to follow in her sister's footsteps. And lastly, their estranged son, Amar, who returns to the family fold for the first time in three years to take his place as brother of the bride. What secrets and betrayals have caused this close-knit family to fracture? Can Amar find his way back to the people who know and love him best?

A Place for Us takes us back to the beginning of this family's life: from the bonds that bring them together, to the differences that pull them apart. All the joy and struggle of family life is here, from Rafiq and Layla's own arrival in America from India, to the years in which their children—each in their own way—tread between two cultures, seeking to find their place in the world, as well as a path home.

A Place for Us is a book for our times: an astonishingly tender-hearted novel of identity and belonging, and a resonant portrait of what it means to be an American family today. It announces Fatima Farheen Mirza as a major new literary talent.
Praise For A Place for Us: A Novel…
Praise for A Place for Us:

"Absolutely gorgeous...Mirza writes about family life with the wisdom, insight and patience you would expect from a mature novelist adding a final masterpiece to her canon, but this is, fortunately, just the start of an extraordinary career…. Has a household ever been cradled in such tender attention as this novel provides?... As Marilynne Robinson has done with Protestants and Alice McDermott has done with Catholics, Mirza finds in the intensity of a faithful Muslim family a universal language of love and anguish that speaks to us all... In prose of quiet beauty and measured restraint, Mirza traces those twined strands of yearning and sorrow that faith involves. She writes with a mercy that encompasses all things.... Each time I stole away into this novel, it felt like a privilege to dwell among these people, to fall back under the gentle light of Mirza's words."
— Ron Charles, Washington Post

"Ambitious… a family epic that is textured and keenly felt… Mirza draws Amar's lifelong struggle with the concept of unconditional devotion so poignantly that readers will find it exceedingly relatable. But so too is the mysterious whisper in his ear urging him always to return, no matter how far he strays, back home."
— New York Times Book Review

"The thinking person's summer read, a rich and layered tale about family and assimilation."
— Entertainment Weekly

"[An] impassioned debut novel… Mirza is attuned to the subtle ways in which siblings and parents compete for one another's affection. A ruminative final section, in which the father addresses his wayward son, is a moving coda."
— The New Yorker

"The book dives into the lives of a Muslim-American family, opening on the eve of the eldest daughter's marriage, and examines the intricacies of a family straddling two very different cultures."
— Vanity Fair

"A Place for Us is a stunning novel about love, compassion, cruelty and forgiveness — the very things that make families what they are…[Mirza's] writing is gorgeous, unadorned but beautiful… a miracle of a book. A Place for Us is a major accomplishment, a work of real beauty and fierce originality."
— Michael Schaub, NPR.org

"In polished prose that zeroes in on domestic detail and, at its loveliest, recalls Jhumpa Lahiri, Mirza delivers a portrait of a family straining to hold its center amid rebellions both quiet and explosive."
— TIME

"A rich portrait of a fractured Muslim family…With unwavering compassion, this beautiful heartbreaker unravels the mystery of who may be to blame for Amar's estrangement."  
—People

"Magical." 
— ELLE

"This is a richly detailed, immersive saga that hooks you from the jump and keeps you absorbed even as you spend decades with its characters. A Place for Us is a tender examination of identity and familial roles, of faith, and of what it means to be home."
— Marie Claire 

"An affecting, authentic and artful debut by Fatima Farheen Mirza… Mirza's writing is poignantly beautiful…By the end of the novel, readers may wish that some characters had spoken up at critical junctures and that other characters had swallowed the words that irreparably altered the course of events. That we become so invested is a testament to Mirza's talent."
— Associated Press

"A stunner, worthy of a place among the finest books ever written about an American family."
— Minneapolis Star Tribune

"If you crave a family epic, read A Place for Us by Fatima Farheen Mirza....In this stunning, gorgeous novel, Mirza looks at the crucial events in an Indian-American Muslim family from many perspectives."
— Refinery29

"One of the biggest books of the summer."
— Bustle

"Fatima Farheen Mirza's A Place for Us is everything I love about family sagas. It traverses time and place, explores the conflicts between a parent's expectation and a child's desires, and, most importantly, introduces us to fully imagined, flawed characters whose relationships are deep, entangled, and rich in love. The story — which centers on an American Muslim family navigating the tension between tradition and autonomy — is told in fragments, jumping from one character to another, slowly adding layers to scenes by revisiting interactions from multiple perspectives. And Mirza renders this family with a gentle hand, lovingly, so that each character will make their way into your heart."
— Buzzfeed

"A brilliant debut from Fatima Farheen Mirza... this is a story about hope, and about the ways in which, if we open ourselves up to forgive the flaws in those we love, we can better move forward toward a brighter future."
— Nylon

"A complex narrative that dives into the fractured relationships that make up an Indian family as they gather for a wedding."
— PopSugar

"Beautiful."
—Daily Beast

"Highly anticipated."
— Parade

"Few novels so elegantly capture the complicated cultural dynamics of a modern American family quite like A Place for Us....Told from multiple perspectives, the story offers a nuanced look at what it's like to feel caught between two cultures, struggling to honor where you come from while attempting to fit in where you are. A devastating and deeply moving book."
— Shondaland

"This affecting debut follows an Indian-American Muslim family as they assimilate into U.S. culture... Mirza's expansive novel tackles everything from 9-11 to addiction, each moment offering a sliver of explanation as to how a family can become so fractured. Mirza writes about her characters with an incredible amount of tenderness, keeping readers invested."
— Village Voice

"A Place for Us resonates at the crossroads of culture, character, storytelling and poignancy."
— BookPage

"A hauntingly beautiful and poignant story of identity, belonging and perception. This first novel from Sarah Jessica Parker's new imprint, SJP for Hogarth, is as timely as it is stunning, and is the perfect launch for an imprint designed to celebrate literary fiction titles that will resonate with all readers, regardless of race, gender or experience."
— Bookreporter

"Fatima Farheen Mirza's story brilliantly displays a path to mold old traditions with the new to examine love and identity."
— The Margins

"Extraordinary in its depth and diligence... Mirza adeptly revisits painful dilemmas from each narrator's perspective, revealing jolting secrets. Each complex, surprising character struggles with faith, responsibility, racism, fear, longing, and jealousy, while Mirza conveys with graceful specificity the rhythms of Muslim life, from prayer to wearing hijab, gender etiquette, food, holidays, and values, all of which illuminate universal quandaries about family, self, culture, beliefs, and generational change." 
— Booklist

"A California-based Indian Muslim family celebrates the wedding of daughter Hadia, marrying for love. Present is her estranged brother Amar, who hasn't easily mnaged the rough road between youth and adulthood, Old World tradition and America, and the novel effectively unfolds family tensions and Amar's swirling personal anguish."
— Library Journal 

"The debut of 26-year-old Mirza is the first book from Sarah Jessica Parker's imprint at Hogarth; it explores the spiritual lives of its characters with sympathy and passion. The title of the book echoes a song from West Side Story, itself a retelling of Romeo and Juliet. Here the warring forces are not two families but one, split by the tension between reverence and rebellion. The author's passion for her subject shines like the moon in the night sky, a recurrent image in this ardent and powerful novel."  
— Kirkus

"Mirza displays a particular talent for rendering her characters' innermost emotional lives, signaling a writer to watch."
— Publishers Weekly

"A Place for Us is a triumph and an inspiration. I wish everyone would read this novel. A chronicle of the shattered expectations and irreconcilable desires within an American-Muslim family, A Place for Us hums with a deep faith in an unknown future, reminding its readers that when we are lost, love gives us a map home."
— KAREN RUSSELL, author of Swamplandia!

"A Place for Us is a radiantly envisioned, beautifully achieved epic about nearly everything that matters: love, family, faith, freedom, betrayal, contrition, absolution. Fatima Farheen Mirza is a magnificent new voice." 
— ANTHONY MARRA, author of A Constellation of Vital Phenomena 

"This powerful, intricate debut is essential reading."
— NOVIOLET BULAWAYO, author of We Need New Names

"This extraordinary, piercingly wise novel examines as profoundly as any book I know the threads of injury and grace that stitch together a family. Fatima Farheen Mirza has the passionate intelligence and moral vision that announce not merely an excellent writer, but a great one. I felt such gratitude reading this fiercely compassionate debut, and such joy at discovering a voice I will follow for the rest of my life." 
— GARTH GREENWELL, author of What Belongs to You

"The depth of the storytelling and the beauty of the language makes this debut novel by Fatima Farheen Mirza something to treasure. Highly recommended!"
— JOHN BOYNE, author of A Ladder to the Sky

"Fatima Farheen Mirza's A Place for Us is a radiant debut. It accretes its power, beauty, and insight through its tender witnessing of private and family life. With her deeply compassionate view, Mirza dignifies terrain often desecrated by contemporary culture: maternity, faith, the bonds of community, the yearning for goodness, and our duty to others.  She shows us the destructiveness of our doubt in those we love, and the mercy of forgiveness.  Most wondrously, with this felt and moving novel, Mirza creates a place in which rebellion and reverence seem to embrace." 
— CHARMAINE CRAIG, author of Miss Burma
 
 "Fatima Farheen Mirza's A Place for Us is a work of extraordinary and enthralling beauty. It is so deeply imagined, so intimately attentive to and solicitous of the lives it follows, so artful in describing the inseparable human experiences of pride and resentment, humility and loyalty -- and, most of all, love – that it feels not as if we are reading a novel about this Muslim-American family struggling with tradition and culture, but as if we become actual members of the family. It is that immersive, that brilliant, that true."
— PAUL HARDING, author of Tinkers

"Beautiful, intimate, tender. So vividly told the characters live and breathe."
— RACHEL JOYCE, author of The Music Shop
SJP for Hogarth, 9781524763558, 400pp.
Publication Date: June 12, 2018
About the Author
FATIMA FARHEEN MIRZA was born in 1991 and raised in California. She is a graduate of the Iowa Writers' Workshop and a recipient of the Michener-Copernicus Fellowship.
1. How did you interpret the title of A Place for Us? Does this "place" refer to family, culture, community, or religion?
2. Through the nuances of her writing, Fatima Farheen Mirza depicts complex, multidimensional characters. How were different sides to her characters' personalities revealed? How do you reconcile Amar's behavior with Amira with the anger and resentment he holds toward his family?
3. Did your opinion of Rafiq change or develop as the narrative progressed? Did you become more sympathetic or understanding of the father portrayed early on in the novel when, in the final section, the novel switches to his first-person perspective?
4. Layla at one stage advises Hadia to be mindful of the ways she treats and teases Amar, for his childhood experiences will impact the rest of his life. Layla warns, "One day the joke will not be funny. If you always leave him out, if you always tease him and hurt his feelings, soon you will not know how to be any other way with him, and it will affect his personality. Your relationship. For his whole life, and the rest of yours." Can you recall any moments from Amar's early years that affected his personality or the course of his adult life?
5. From a young age, Amar fears that he has a "black stain" on his soul. What do you think was the root cause of this fear? Why do you think he questions his own inherent goodness, and how does self-doubt affect his behavior?
6. Hadia comes to see the watch she received from Rafiq, an heirloom that was her grandfather's, as a symbol of the competition between herself and Amar. How might the watch also be symbolic of their complex relationships with their father?
7. How did you interpret other recurring images or symbols in A Place for Us, for instance, the moon, Layla's garden, or the black box that Amar received as a birthday gift?
8. In his late teenage years, Amar strives to prove himself as a worthy partner for Amira Ali, deserving of her parents' approval. Where else did you see characters behave in certain ways, compromising their desires and making major life decisions, to please their family and community? How did this affect their personal happiness?
9. When her children speak English instead of Urdu, Layla fears that they will gradually lose touch with their heritage. As they moved toward adulthood, how did Hadia and Huda depart from certain aspects of their culture? What others did they uphold? You might consider rituals, customs, or gender roles.
10. At Hadia's wedding, Amira mentions that her brother, Abbas, had been a "moral compass" for her parents. What lessons did you see children teach their parents (and grandparents) in A Place for Us?
11. Toward the end of the novel, Rafiq admits with regret that, as a result of his rigid religious practice and strict adherence to rules, he had failed to impart to his family an understanding of God's kindness and mercy. How do you think his relationship with Amar would have changed or improved if he had come to this realization when his children were young?
12. Were you angry with Amar for leaving his parents and sisters, or were his actions justified? Did you blame Rafiq, Layla, or even Hadia, for contributing to Amar's decision to move away from home and cut off communication with the family?
13. In the final section, Rafiq expresses his fear that his grandchildren will experience the effects of racist hate and violence, which Amar had been exposed to in school. Do you think that A Place for Us, depicting the personal lives of a Muslim family in America, has an important social message?