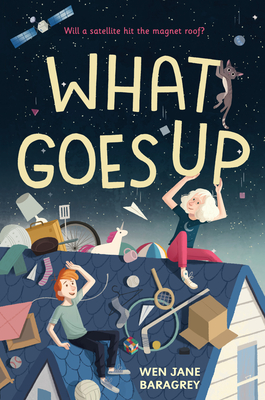 What Goes Up (Hardcover)
Random House Books for Young Readers, 9781524765811, 224pp.
Publication Date: October 30, 2018
Other Editions of This Title:
Library Binding (10/30/2018)
* Individual store prices may vary.
Description
What goes up . . . comes down on Robyn Tinkerbell Goodfellow's roof! Will a rogue NASA satellite crush her house before Robyn can set things right?

Robyn Tinkerbell Goodfellow (yes, that's actually her name) has a target on her roof. Well, not a real one, but everything seems to land there: paper airplanes, lost kites, socks, cats, and once even a skydiver! In the town of Calliope, Robyn and her magnet roof are famous--for being weird. That wasn't such a big deal . . . until now!

A rogue NASA satellite is falling out of orbit and is going to hit Earth. NASA says it will probably land in the ocean, but Robyn knows better--that satellite is headed for her roof. To make matters worse, Robyn discovers that she doesn't just have a fairy middle name. When her class reads A Midsummer Night's Dream, she learns that Robin Goodfellow is a fairy! Which means if the satellite flattens her, everyone will laugh at her name in the news stories. Robyn realizes what she needs to do: find her long-lost dad so he can help her change her name and protect her from the satellite!

Both surprising and relatable, this middle-grade novel will have readers wishing they could move to the small town of Calliope, laugh with the larger-than-life characters, and race against the clock to save Robyn from NASA's mistake.
About the Author
Wen Jane Baragrey has a reputation as a teller of grand tales--otherwise known as fibs--and felt that writing books would put these skills to best use. In the past she has worked as an artist, been a lighting tech for a band, and appeared on television; all of these claims are more or less true. She lives on a farm in New Zealand, where she is surrounded by children, volcanoes, five German shepherds, and too many goats. (Don't even get her started on the goats.)

Visit her online at wenbaragrey.com, on Facebook at WenBaragrey.author, or on Twitter at @WenBaragrey.
Praise For What Goes Up…
"Funny, charming, slightly kooky, and absolutely brimming with heart. Baragrey writes kid characters faced with big problems (finding one's dad) and smaller problems (a NASA satellite about to smash your house) in a way that is warm and surprisingly relatable. I loved these characters and their odd, small-town lives." --Stefan Bachmann, internationally bestselling author of The Peculiar

"With warmth and whimsy, What Goes Up explores the security of friendship, the permanence of family, and the comfort that comes from learning the place you belong." --Caroline Starr Rose, author of May B 

"What Goes Up is filled with humor, wit, and warmth. I loved it!" --Juliana Stone, author of Boys Like You

"A quirky, heartwarming story of family and friendship." --Kirkus Reviews