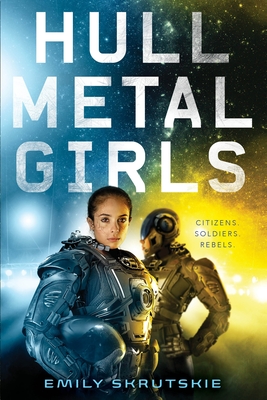 Hullmetal Girls (Hardcover)
Delacorte Press, 9781524770198, 320pp.
Publication Date: July 17, 2018
* Individual store prices may vary.
Description
"Filled with badass girls and epic adventures" (Buzzfeed), Hullmetal Girls is "a little Ender's Game, a little Hunger Games, [and] a little Battlestar Gallactica." (NPR)

Don't miss the novel that New York Times bestselling author Beth Revis says "you will devour in one sitting," perfect for fans of Alita, Pierce Brown, and the Illuminae series.

Aisha Un-Haad would do anything for her family. When her brother contracts a plague, she knows her janitor's salary isn't enough to fund his treatment. So she volunteers to become a Scela, a mechanically enhanced soldier sworn to protect and serve the governing body of the Fleet, the collective of starships they call home. If Aisha can survive the harrowing modifications and earn an elite place in the Scela ranks, she may be able to save her brother.

Key Tanaka awakens in a Scela body with only hazy memories of her life before. She knows she's from the privileged end of the Fleet, but she has no recollection of why she chose to give up a life of luxury to become a hulking cyborg soldier. If she can make it through the training, she might have a shot at recovering her missing past.

In a unit of new recruits vying for top placement, Aisha's and Key's paths collide, and the two must learn to work together--a tall order for girls from opposite ends of the Fleet. But a rebellion is stirring, pitting those who yearn for independence from the Fleet against a government struggling to maintian unity.

With violence brewing and dark secrets surfacing, Aisha and Key find themselves questioning their loyalties. They will have to put aside their differences, though, if they want to keep humanity from tearing itself apart.

A Boston Globe Best Book of the Year
A Paste Best Book of the Year

"Hullmetal Girls has everything I love in a space opera: deep faith, high stakes, endless questions about humanity, and a cast that shows the best (and less-best) of what we might become." -E.K. Johnston, #1 New York Times bestselling author of That Inevitable Victorian Thing
  
"From the badass cybernetics to the space opera politics, there is so much to adore about Hullmetal Girls. It's a captivating sci-fi adventure that will make you fall madly for Skrutski's fabulous writing, if you haven't already. [Perfect] for fans of: Cindy Pon (Want) and Pierce Brown (Red Rising)."--Paste

"An unexpected and clever story that is difficult to put down. Skrutskie's cast of characters, including the adults, is very well developed...[as they] unravel the mystery at the heart of their society....A great science fiction story."--VOYA, Starred Review
  
"[An] exciting standalone...full of shifting allegiances...[and] ethnically diverse main characters with a range of sexual identities."--SLJ

"An engaging narrative with a complex cast that intersects race, sexual identity, religion, and class."--Kirkus Reviews

"Emily Skrutskie's complex, space-based post-apocalyptic world is...a gripping and intelligent young adult read."--Shelf Awareness

"Packed with diverse characters...and [with] much of the story's conflict stems from class-based tension, Skrutskie's examination of what defines humanity, family, and free will makes this an engaging, satisfying story."--Publishers Weekly
 
About the Author
Emily Skrutskie was born in Massachusetts, raised in Virginia, and forged in the mountains above Boulder, Colorado. She attended Cornell University and now lives and works in Los Angeles, CA. Emily is the author of Hullmetal Girls, The Abyss Surrounds Us, and The Edge of the Abyss. To learn more about her and her books, go to skrutskie.com or follow @skrutskie on Twitter and Instagram.
Praise For Hullmetal Girls…
A Boston Globe Best Book of the Year
A Paste Magazine Best Book of the Year

"A little Ender's Game, a little Hunger Games, a little Battlestar Gallactica, and a touch of 'what if the Borg were teenagers and only partially assimilated?' Amazingly, it works."—NPR  

"Filled with badass girls and epic adventures…this one's guaranteed to take you on a ride."—Buzzfeed

"From the badass cybernetics to the space opera politics, there is so much to adore about Hullmetal Girls. It's a captivating sci-fi adventure that will make you fall madly for Skrutski's fabulous writing, if you haven't already. [Perfect] for fans of: Cindy Pon (Want) and Pierce Brown (Red Rising)."—Paste

★ "An unexpected and clever story that is difficult to put down. Skrutskie's cast of characters, including the adults, is very well developed...[as they] unravel the mystery at the heart of their society....A great science fiction story."—VOYA, Starred Review
"Near perfection." –Bulletin

"[An] exciting standalone...full of shifting allegiances...[and] ethnically diverse main characters with a range of sexual identities."—SLJ

"An engaging narrative with a complex cast that intersects race, sexual identity, religion, and class."—Kirkus Reviews

"Emily Skrutskie's complex, space-based post-apocalyptic world is...a gripping and intelligent young adult read."—Shelf Awareness

"Packed with diverse characters...and [with] much of the story's conflict stems from class-based tension, Skrutskie's examination of what defines humanity, family, and free will makes this an engaging, satisfying story."—Publishers Weekly

"[Skrutskie's] created a fully realized world...and the diversity of ethnicities, sexualities, genders, and religions is seamlessly integrated into the story."—Booklist
 
"Hullmetal Girls has everything I love in a space opera: deep faith, high stakes, endless questions about humanity, and a cast that shows the best (and less-best) of what we might become."—E.K. Johnston, #1 New York Times bestselling author of That Inevitable Victorian Thing

"A book you will devour in one sitting, Hullmetal Girls is not to be missed!"—Beth Revis, New York Times bestselling author of A World Without You and Across the Universe