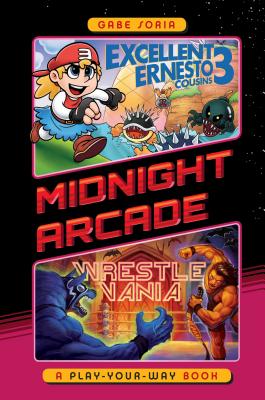 Excellent Ernesto Cousins 3/Wrestlevania
A Play-Your-Way Book (Midnight Arcade #2)
Hardcover

* Individual store prices may vary.
Other Editions of This Title:
Paperback (3/26/2019)
Description
In this next installment of the new play-your-way adventure tale, players encounter a haunted arcade on a deserted boardwalk. Upon entering, the reader finds themself absorbed into one of two video games in which the reader determines the course of action, ultimately controlling whether they live . . . or die!

During a late-night stroll on your boring summer beach vacation, you discover a derelict video arcade managed by a ghostly attendant. Presented with a magical game token, you select one of two games you wish to play, the Excellent Ernesto Cousins 3 or Wrestlevania. Once you place the token in the slot, you have to make choices to advance through the games, and your decisions control whether you beat the game--or die.

Both games feature unique challenges and life-like game play that will delight readers, and the most important choice in either game for those now trapped inside them, is the one that will keep them alive.
Penguin Workshop, 9781524784317, 288pp.
Publication Date: September 4, 2018
About the Author
Known for his popular online role-playing game Sword and Backpack, Gabe Soria has written books for Penguin, including Regular Show's Fakespeare in the Park and Shovel Knight's Digger's Diary. He has also written several comic books for DC Comics, including Batman '66, and collaborated with friend Dan Auerbach of the Black Keys on The Murder Ballads comic book. This is his first series of original fiction.

Kendall Hale is a cartoonist from Wisconsin whose work has varied from animated character designs to commercial advertising. He has produced work for Nick Jr., Bento Box, Skippy Peanut Butter, and Sandman Studios. He has also taught classes for Brigham Young University. He currently lives in Los Angeles with his pet rock, Rock.