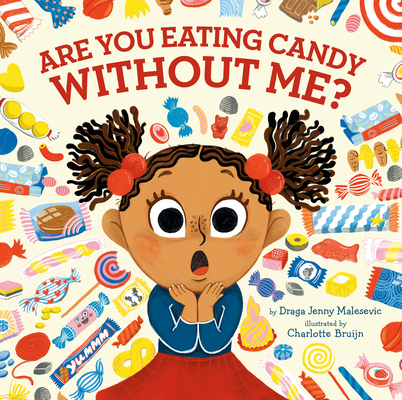 Are You Eating Candy without Me?
Hardcover

* Individual store prices may vary.
Other Editions of This Title:
Compact Disc (8/11/2020)
Description
"A book as sweet as the candy that fills its pages." - Kirkus Reviews

In this delightfully illustrated picture book, readers explore the original FOMO (Fear of Missing Out) as four children imagine what wild, zany, and impossible adventures the adults in their lives must surely get up to when they are not with them.

Four different children from three different families ponder what the adults in their lives do during the day. Are they jumping on trampolines? Are they eating cake and ice cream while riding birthday ponies? Are they eating candy with other adults? After a series of hilariously illustrated and wildly imaginative scenarios, readers learn an important lesson: The adults who love them think about them constantly and are most definitely, certainly, ABSOLUTELY . . . not eating candy without them. Or are they?
Praise For Are You Eating Candy without Me?…
"Childhood is a time fraught with questions: Why is the sky blue? Why is grass green? What do grown-ups do when kids aren't around? In this whimsical flight of fancy, four children—diverse in racial presentation and family type—seek answers to questions of their own. The children's initial questions revolve around how the adults behave at home and work when the children are not present. They ask: "What do you do without me?" and "Do all the rules still apply when I'm not home?" and "Do you tell other people what to do?"—a question hilariously paired with an image of one child's mom telling a man not to pick his nose. The next round of questions express concern that the grown-ups are having childlike fun without them, including the obvious query, "Do you go to fancy parties with ice cream, cake, and ponies?" This ultimately leads to the most important question of all: "ARE YOU EATING CANDY WITHOUT ME?!?!?" The playful illustrations are bright and appropriately candy-colored. They vary among busy but never overwhelming full-bleed, double-page spreads and large comic-book–like panels incorporating images, text, and speech bubbles. The font is large, which makes it excellent for trailing with a finger for a read-along. Inviting both conversation and giggles, this tale will work well as a lap read or bedtime book.

A book as sweet as the candy that fills its pages." - Kirkus Reviews
Penguin Workshop, 9781524792015, 32pp.
Publication Date: August 11, 2020
About the Author
Draga Jenny Malesevic is an author and storyteller living in New York City. She is a publishing professional by day and enjoys trivia, dancing, and most of all, reading children's books. This is her first picture book.

Charlotte Bruijn is a designer, illustrator, and proud mother of two young readers living in the Netherlands.