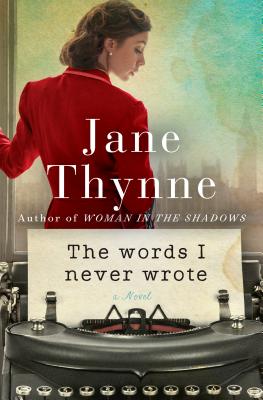 The Words I Never Wrote (Hardcover)
A Novel
Ballantine Books, 9781524796594, 400pp.
Publication Date: January 21, 2020
Other Editions of This Title:
Library Binding, Large Print (5/13/2020)
* Individual store prices may vary.
Description
A chance discovery inside a vintage typewriter case reveals the gripping story of two sisters on opposite sides of World War II in this captivating novel for readers of Lilac Girls and The Women in the Castle.

New York, present day: On a whim, Juno Lambert buys a 1931 Underwood typewriter that once belonged to celebrated journalist Cordelia Capel. Within its case she discovers an unfinished novel, igniting a transatlantic journey to fill the gaps in the story of Cordelia and her sister and the secret that lies between them.

Europe, 1936: Cordelia's socialite sister Irene marries a German industrialist who whisks her away to Berlin. Cordelia, feistier and more intellectual than Irene, gets a job at a newspaper in Paris, pursuing the journalism career she cherishes. As politics begin to boil in Europe, the sisters exchange letters and Cordelia discovers that Irene's husband is a Nazi sympathizer. With increasing desperation, Cordelia writes to her beloved sister, but as life in Nazi Germany darkens, Irene no longer dares admit what her existence is truly like. Knowing that their letters cannot tell the whole story, Cordelia decides to fill in the blanks by sitting down with her Underwood and writing the truth.

When Juno reads the unfinished novel, she resolves to uncover the secret that continued to divide the sisters amid the turmoil of love, espionage, and war. In this vivid portrait of Nazi Berlin, from its high society to its devastating fall, Jane Thynne examines the truths we sometimes dare not tell ourselves.

Advance praise for The Words I Never Wrote

"In sumptuous prose, Jane Thynne limns the lives of two sisters ripped apart by the moral choices they made in a time of war. Dramatic, fast-paced, and emotional, The Words I Never Wrote puts the interior details of women's lives in stark relief against the dramatic backdrop of Europe in World War II, helping readers understand the difficult choices that women made."—Elizabeth Letts, author of The Perfect Horse: The Daring U.S. Mission to Rescue the Priceless Stallions Kidnapped by the Nazis
 
"Haunting, taut, and compelling, this portrait of two upper-class British sisters divided by World War II is a kaleidoscopic story of love and betrayal whose characters are never quite what they seem. It will capture your attention immediately and keep you thinking for a long time to come."—Lynne Olson, author of Madame Fourcade's Secret War
About the Author
Jane Thynne was born in Venezuela and educated in London. After graduating from Oxford, she worked for the BBC, The Sunday Times, and The Daily Telegraph. She continues to freelance as a journalist while writing her historical fiction. Her novels, including the Clara Vine series, have been published in French, German, Greek, Turkish, Italian, and Romanian. The widow of Philip Kerr, she has three children and lives in London, where she is working on her next novel.
Praise For The Words I Never Wrote: A Novel…
"An engrossing, suspenseful page-turner that defies expectations . . . This is a satisfying book, filled with vivid historical detail and surprisingly nuanced characters. It effortlessly integrates real-life figures, including the notorious double agent Kim Philby, who plays a small but pivotal role, and Martha Dodd, daughter of America's ambassador to Germany, who befriends Irene."—Kirkus Reviews
 
"[Jane] Thynne's moving, often heartbreaking story of two English sisters on divergent paths is perfect for fans of Martha Hall Kelly's Lilac Girls and Kristin Hannah's The Nightingale, or any readers who can't get enough of novels about women's lives during World War II."—Library Journal

"Jane Thynne's latest novel is magnificent. In her first standalone, she expertly intertwines the stories of three different women with secrets—two sisters on opposite sides in World War II, and the present-day young photographer who pieces their stories together. Thynne works with a journalist's talent for choosing the telling historic detail—including cameos by the ambassador to Germany's daughter Martha Dodd and double-agent Kim Philby—combined with a novelist's sense of how those details come together to shape a relevant and timeless story."—Susan Elia MacNeal, author of the Maggie Hope mystery series
 
"The Words I Never Wrote threads its way through layers of twentieth-century history, weaving a pattern of love, loss, hope, and tragedy against a backdrop of conflict. Two sisters separated both ideologically and geographically are brought together once more when a half-finished manuscript describing their lives surfaces more than half a century later, allowing their stories to be unpicked and re-sewn together in a deeply moving narrative. Highlighting the power of the written word to bear witness to the seismic shifts of history, this is complex material beautifully stitched. I couldn't recommend it more highly."—Elizabeth Fremantle, author of The Poison Bed and Queen's Gambit
 
"A gripping account of sisters divided by war. . . . Thynne's depiction of prewar Berlin is superb."—Daisy Goodwin, author of Victoria
 
"Thynne memorably portrays how the bond shared by two sisters can be fractured by politics and war. . . . Thynne's elegant narrative immerses the reader in war-torn Europe. . . . Fans of WWII fiction with strong female characters will be immersed in this magnetic novel."—Publishers Weekly
 
"In sumptuous prose, Jane Thynne limns the lives of two sisters ripped apart by the moral choices they made in a time of war. Dramatic, fast-paced, and emotional, The Words I Never Wrote puts the interior details of women's lives in stark relief against the dramatic backdrop of Europe in World War II, helping readers understand the difficult choices that women made."
—Elizabeth Letts, New York Times bestselling author of The Perfect Horse: The Daring U.S. Mission to Rescue the Priceless Stallions Kidnapped by the Nazis
 
"Haunting, taut, and compelling, this portrait of two upper-class British sisters divided by World War II is a kaleidoscopic story of love and betrayal whose characters are never quite what they seem. It will capture your attention immediately and keep you thinking for a long time to come."
—Lynne Olson, New York Times bestselling author of Madame Fourcade's Secret War