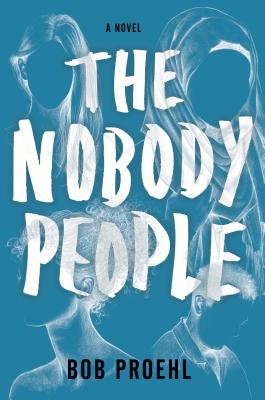 The Nobody People
A Novel (The Resonant Duology #1)
Hardcover

* Individual store prices may vary.
Other Editions of This Title:
Digital Audiobook (10/14/2020)
Digital Audiobook (9/2/2019)
Paperback (6/9/2020)
Description
When a group of outcasts with extraordinary abilities comes out of hiding, their clash with a violent society will spark a revolution—or an apocalypse.
 
"Much like the X-Men comics, Proehl masterfully uses science fiction as a lens to examine social inequality and human evil."—Booklist

Avi Hirsch has always known his daughter was different. But when others with incredible, otherworldly gifts reveal themselves to the world, Avi realizes that her oddness is something more—that she is something more. With this, he has a terrifying revelation: Emmeline is now entering a society where her unique abilities unfairly mark her as a potential threat. And even though he is her father, Avi cannot keep her safe forever.

Emmeline soon meets others just like her: Carrie Norris, a teenage girl who can turn invisible . . . but just wants to be seen. Fahima Deeb, a woman with an uncanny knack for machinery . . . but it's her Muslim faith that makes the U.S. government suspicious of her.

They are the nobody people—ordinary individuals with extraordinary gifts who want one only thing: to live as equals in an America that is gripped by fear and hatred. But the government is passing discriminatory laws. Violent mobs are taking to the streets. And one of their own—an angry young man seething with self-loathing—has used his power in an act of mass violence that has put a new target on the community. The nobody people must now stand together and fight for their future, or risk falling apart.

The first book of a timely two-part series, The Nobody People is a powerful novel of love and hope in the face of bigotry that uses a world touched by the fantastic to explore our current reality. It is a story of family and community. It is a story of continuing to fight for one another, no matter the odds. It is the story of us.

Bob Proehl will return with The Somebody People!
Praise For The Nobody People: A Novel (The Resonant Duology #1)…
"[A] complex novel about the cost of being different . . . The characters are intricately human, each rendered in minute and thoughtful detail that pushes back against stereotypes. . . . [The Nobody People] leaves the reader eagerly awaiting the next installment."—Publishers Weekly

"Proehl masterfully uses science fiction as a lens to examine social inequality and human evil; readers will find it hard to believe that they're not actually looking into the near future."—Booklist

"Thoughtful, nuanced, kinetic, and, above all, human, this is the superhero story we've been waiting for."—Seanan McGuire, New York Times bestselling author of the October Daye series

"The Nobody People is an expertly plotted, morally complex, brilliantly written, adrenaline-fueled adventure into a new dawn of heroes and villains. Hold on tight to this novel, because you're in for a hell of a ride."—Benjamin Percy, author of The Dark Net, Thrill Me, Red Moon, and The Dead Lands

"Smart, exciting, lyrical, and fun. This astonishing book brings the superhero universe of Marvel or DC into our own, with all its rough edges and ugliness. Once you start reading, you won't be able to stop."—Sam J. Miller, Nebula Award winning author of Blackfish City 

"The epitome of a page-turner, with well-drawn-out characters, tense set pieces, and a cinematic feel."—John Marrs, bestselling author of The Good Samaritan
 
"The Nobody People smashes the ordinary and the extraordinary together for an electric story of modern-day America. Proehl's strong narrative voice, his complex characters working to survive in a world that fears them, and the conflict and empowerment that comes when you must stand up for who you are all turn The Nobody People into a thrilling story, one that will certainly resonate with its readers long after they finish."—Martin Cahill, author of "Godmeat"
 
"Bob Proehl brings striking realism to this extraordinary story, delving into the notion of otherness with nuance and complexity. With an ensemble cast of badass, cool-as-hell, and deeply human characters, The Nobody People is a super-fun ride and a timely tale of love, hate, and everything in between."—Sylvain Neuvel, author of the Themis Files
 
"Bob Proehl is one of those authors you can trust to guide you out of your comfort zone. The Nobody People is a gripping, haunting, and complex book, perfect for our times. It will take you on a warrior's journey. In fact, I'm reminded of something Gandalf said to Bilbo at the outset of The Hobbit: '...if you do [come back], you won't be the same.'"—Michael Poore, author of Reincarnation Blues
Del Rey, 9781524798956, 496pp.
Publication Date: September 3, 2019
About the Author
Bob Proehl is the author of A Hundred Thousand Worlds, a Booklist Best Book of the Year. He has worked as a bookseller and programming director for Buffalo Street Books in Ithaca, New York, a DJ, a record-store owner, and a bartender. He was a New York Foundation for the Arts Fellow in Fiction and a resident at the Saltonstall Arts Colony. His work has appeared on Salon, as part of the 33 ⅓ book series, and in American Short Fiction.
or
Not Currently Available for Direct Purchase