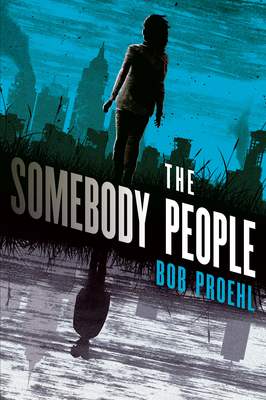 The Somebody People
A Novel (The Resonant Duology #2)
Paperback

* Individual store prices may vary.
Description
A group of outcasts with extraordinary abilities must save a crumbling world from annihilation in this gripping follow-up to The Nobody People.
 
Fahima Deeb changed everything seven years ago when she triggered the Pulse, imbuing millions of people with otherworldly gifts like flight, telekinesis, or superhuman strength. She thought that would herald the end of the hostilities between those with abilities and those without, but it instead highlighted a new problem: There is someone behind the scenes, able to influence and manipulate these newly empowered people into committing horrible acts against their will. Worse still, that shadowy figure is wearing the face of Fahima's oldest friend, Patrick Davenport. Fahima is horror-struck when she realizes that Patrick has built an army entirely under his control to wipe out all who oppose him.
 
With nowhere to turn and few she can trust, Fahima must rely on uncertain allies: Carrie Norris, whose illusion of a normal life vanishes at Fahima's reappearance. Clay Weaver, a retired soldier fighting to keep his husband and son safe—and to keep Patrick from taking over his mind. And, finally, Emmeline Hirsch, adrift and untethered from her ability to travel through time. Together, they might be able to topple Patrick's shadowy regime . . . though it may spell destruction for the entire world.
Praise For The Somebody People: A Novel (The Resonant Duology #2)…
Praise for The Somebody People

­­­­­"The Somebody People is a thought-provoking read that raises timely points and bears a resemblance to the X-Men series in its treatment of those with extraordinary abilities. Fans of the series will definitely enjoy this installment."—Booklist
 


Praise for The Nobody People

"[A] complex novel about the cost of being different . . . The characters are intricately human, each rendered in minute and thoughtful detail that pushes back against stereotypes. . . . [The Nobody People] leaves the reader eagerly awaiting the next installment."—Publishers Weekly

"Proehl masterfully uses science fiction as a lens to examine social inequality and human evil; readers will find it hard to believe that they're not actually looking into the near future."—Booklist

"Thoughtful, nuanced, kinetic, and, above all, human, this is the superhero story we've been waiting for."—Seanan McGuire, New York Times bestselling author of the October Daye series

"The Nobody People is an expertly plotted, morally complex, brilliantly written, adrenaline-fueled adventure into a new dawn of heroes and villains. Hold on tight to this novel, because you're in for a hell of a ride."—Benjamin Percy, author of The Dark Net, Thrill Me, Red Moon, and The Dead Lands

"Smart, exciting, lyrical, and fun. This astonishing book brings the superhero universe of Marvel or DC into our own, with all its rough edges and ugliness. Once you start reading, you won't be able to stop."—Sam J. Miller, Nebula Award winning author of Blackfish City 
Del Rey, 9781524799007, 624pp.
Publication Date: September 1, 2020
About the Author
Bob Proehl is the author of The Nobody People and A Hundred Thousand Worlds, a Booklist best book of the year. He has worked as a bookseller and programming director for Buffalo Street Books in Ithaca, New York, a DJ, a record store owner, and a bartender. He was a New York Foundation for the Arts Fellow in Fiction and a resident at the Saltonstall Arts Colony. His work has appeared on Salon, as part of the 33⅓ book series, and in American Short Fiction.