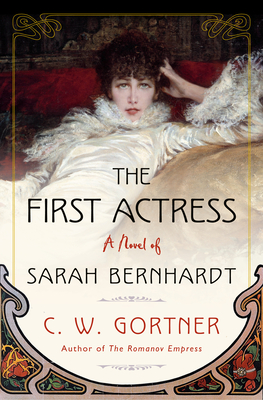 The First Actress
A Novel of Sarah Bernhardt
Hardcover

* Individual store prices may vary.
Other Editions of This Title:
Digital Audiobook (5/25/2020)
Paperback (5/25/2021)
Description
"This novel about Sarah Bernhardt, the iconic French actress, is both a riveting portrait of the artist as a passionate young woman and a luscious historical novel full of period detail."—Melanie Benjamin, New York Times bestselling author of Mistress of the Ritz and The Aviator's Wife

From her beginnings as the daughter of a courtesan to her extraordinary transformation into the most celebrated actress of her era, Sarah Bernhardt is brought to life by an internationally bestselling author praised for his historical novels featuring famous women.

Sarah's highly dramatic life starts when she returns to Paris after her convent schooling and is confronted by her mother's demand to follow in the family trade as a courtesan. To escape this fate, Sarah pursues a career onstage at the esteemed Comédie-Française, until her rebellious acting style leads to her scandalous dismissal. Only nineteen years old and unemployed, Sarah is forced to submit to her mother's wishes. But her seductive ease as a courtesan comes to an abrupt end when she discovers she is pregnant. Unwilling to give up her child, Sarah defies social condemnation and is cast adrift, penniless and alone. 

With her striking beauty and innovative performances in a bohemian theater, Sarah catapults to unexpected success; suddenly, audiences clamor to see this controversial young actress. But her world is torn asunder by the brutal 1870 siege of Paris. Sarah refuses to abandon the ravaged city, nursing wounded soldiers and risking her life.

Her return to the Comédie and her tempestuous affair with her leading man plunge Sarah into a fierce quest for independence. Undeterred, she risks everything to become France's most acclaimed actress, enthralling audiences with her shocking portrayals of female and male characters. Sarah's daring talent and outrageous London engagement pave her path to worldwide celebrity, with sold-out tours in Europe and America. 

Told in her own voice, this is Sarah Bernhardt's incandescent story—a fascinating, intimate account of a woman whose unrivaled talent and indomitable spirit has enshrined her in history as the Divine Sarah.
Praise For The First Actress: A Novel of Sarah Bernhardt…
"Sarah Bernhardt was a woman of fearless strength and awe-inspiring talent, both a living icon in her day and an unapologetic iconoclast. In his beautiful The First Actress, C. W. Gortner gives readers an intimate and rich portrait of Bernhardt's stunning career and tumultuous personal life. The Divine Sarah was a singular leading lady ahead of her time, winning devotees and breaking rules in order to demand more for artists and for women."—Allison Pataki, New York Times bestselling author of The Queen's Fortune
 
"C. W. Gortner has made his mark illuminating the private lives and untold stories of the world's greatest women. In The First Actress, he turns his talent to Sarah Bernhardt, the daughter of a Dutch Jewish courtesan who would rise over the late nineteenth and early twentieth centuries to become an icon of stage and screen. Readers will revel in the gloriously heady mix of love and war, and art and society. Combining immaculate research with scintillating prose and an unforgettable cast of larger-than-life characters, The First Actress stands tall among Gortner's remarkable body of work."—Pam Jenoff, New York Times bestselling author of The Lost Girls of Paris

"Gortner's fluid first-person prose paints a vivid portrait in an immersive, hard-to-put-down drama. . . . Highly recommended."—Historical Novels Review (Editor's Choice)
 
"A literal drama queen, the historical Bernhardt provides a great wealth of material—sleeping in a coffin, keeping pumas as pets, the circles in which she moved with the likes of Victor Hugo and Oscar Wilde—for the creation of a colorful melodrama, equal parts flamboyancy and pathos. Since Bernhardt loved to extravagantly mythologize her own story, she would doubtless delight in Gortner's first-person fictionalization of her extraordinary life."—Booklist
 
"A compelling portrait that will certainly whet readers' appetites to learn more about this charismatic figure . . . 
recommended for fans of Melanie Benjamin and Allison Pataki."—Library Journal
Ballantine Books, 9781524799076, 432pp.
Publication Date: May 26, 2020
About the Author
C. W. Gortner holds an MFA in writing, with an emphasis on historical studies, from the New College of California. He is the internationally acclaimed and bestselling author of The Romanov Empress, Mademoiselle Chanel, The Queen's Vow, The Confessions of Catherine de Medici, The Last Queen, The Vatican Princess, and Marlene, among other books. He lives in Northern California.