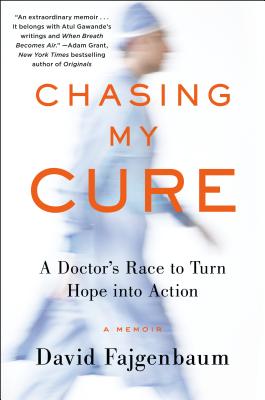 Chasing My Cure
A Doctor's Race to Turn Hope into Action; A Memoir
Hardcover

* Individual store prices may vary.
Other Editions of This Title:
Digital Audiobook (9/9/2019)
Paperback (1/26/2021)
Paperback, Korean (10/28/2019)
Description
LOS ANGELES TIMES AND PUBLISHERS WEEKLY BESTSELLER • The powerful memoir of a young doctor and former college athlete diagnosed with a rare disease who spearheaded the search for a cure—and became a champion for a new approach to medical research.

"A wonderful and moving chronicle of a doctor's relentless pursuit, this book serves both patients and physicians in demystifying the science that lies behind medicine."—Siddhartha Mukherjee, New York Times bestselling author of The Emperor of All Maladies and The Gene

David Fajgenbaum, a former Georgetown quarterback, was nicknamed the Beast in medical school, where he was also known for his unmatched mental stamina. But things changed dramatically when he began suffering from inexplicable fatigue. In a matter of weeks, his organs were failing and he was read his last rites. Doctors were baffled by his condition, which they had yet to even diagnose. Floating in and out of consciousness, Fajgenbaum prayed for a second chance, the equivalent of a dramatic play to second the game into overtime.

Miraculously, Fajgenbaum survived—only to endure repeated near-death relapses from what would eventually be identified as a form of Castleman disease, an extremely deadly and rare condition that acts like a cross between cancer and an autoimmune disorder. When he relapsed while on the only drug in development and realized that the medical community was unlikely to make progress in time to save his life, Fajgenbaum turned his desperate hope for a cure into concrete action: Between hospitalizations he studied his own charts and tested his own blood samples, looking for clues that could unlock a new treatment. With the help of family, friends, and mentors, he also reached out to other Castleman disease patients and physicians, and eventually came up with an ambitious plan to crowdsource the most promising research questions and recruit world-class researchers to tackle them. Instead of waiting for the scientific stars to align, he would attempt to align them himself.
 
More than five years later and now married to his college sweetheart, Fajgenbaum has seen his hard work pay off: A treatment  he identified has induced a tentative remission and his novel approach to collaborative scientific inquiry has become a blueprint for advancing rare disease research. His incredible story demonstrates the potency of hope, and what can happen when the forces of determination, love, family, faith, and serendipity collide.

Praise for Chasing My Cure

"A page-turning chronicle of living, nearly dying, and discovering what it really means to be invincible in hope."—Angela Duckworth, #1 New York Times bestselling author of Grit

"[A] remarkable memoir . . . Fajgenbaum writes lucidly and movingly . . . Fajgenbaum's stirring account of his illness will inspire readers."—Publishers Weekly
Praise For Chasing My Cure: A Doctor's Race to Turn Hope into Action; A Memoir…
"An extraordinary memoir . . . It belongs with Atul Gawande's writings and When Breath Becomes Air."—Adam Grant, New York Times bestselling author of Originals

"Dr. Fajgenbaum tells his own remarkable story of fighting a mysterious, nearly fatal multisystem disease, and of his brilliant deduction that a long-known drug may be the cure.  This book—part detective story, part love story, part scientific quest—shows how one indefatigable physician can bring hope to patients who suffer from a rare disease."—Michael S. Brown, MD, recipient of the Nobel Prize in Medicine, 1985
  
"This is a remarkable and gripping story. Dr. Fajgenbaum's description of his journey is a tale of courage, dedication, and brilliance that will enthrall and fascinate its readers."—Arthur H. Rubenstein, professor of medicine, Perelman School of Medicine, University of Pennsylvania

"Chasing My Cure is a medical thriller that grapples with penultimate stakes—real love, bedrock faith, and how we spend our time on earth. Fast-paced and achingly transparent, David Fajgenbaum's deeply thoughtful memoir will have you rethinking your life's priorities."—Lynn Vincent, #1 New York Times bestselling co-author of Heaven is for Real and Indianapolis

"Chasing My Cure is the riveting story of Dr. Fajgenbaum's remarkable journey persevering through illness to medical discoveries and recovery. It is also a tribute to his rare spirit and intellect, the support of his family and friends, the power of modern science, and the role that patients can play to find new treatments."—J. Larry Jameson MD, PhD, dean, Perelman School of Medicine, University of Pennsylvania
 
"This is a fascinating true-life story of a young doctor, stricken with a rare, life-threatening disease, who takes matters into his own hands and, with total focus, finds a cure. . . . An informative and inspiring read."—Andrew Weil, MD

"I was riveted from the very first to the very last page of this extraordinary story of life, assumed death, resilience, and hope. I am convinced that through his incredible journey, David Fajgenbaum has acquired 'superpowers' that will no doubt shape the lives of others."—Nicole Boice, founder Global Genes

"Chasing My Cure is an extremely powerful story about turning fear into faith, and hope into action. David Fajgenbaum's ferocious will to survive and his leadership in the face of his rare disease provides a model pathway for others searching for cures of their own to follow."—Stephen Groft, Pharm.D., former director, Office of Rare Diseases Research, National Institutes of Health

"Moving . . . A powerful, highly personal chronicle of a doctor's feverish rush to find a cure for the disease that afflicts him."—Kirkus Reviews
Ballantine Books, 9781524799618, 256pp.
Publication Date: September 10, 2019
About the Author
David Fajgenbaum, MD, MBA, MSc, is a graduate of Georgetown University, the University of Oxford, the University of Pennsylvania, and the Wharton School. An assistant professor of medicine at the University of Pennsylvania and the associate director for the Orphan Disease Center, he is cofounder and executive director of the Castleman Disease Collaborative Network, as well as the cofounder of the National Students of Ailing Mothers and Fathers Support Network. Dr. Fajgenbaum has been recognized with multiple awards, including the Forbes "30 Under 30" for healthcare and the RARE Champion of Hope Award for science. He has been profiled by major media outlets such as The New York Times, Forbes, Science, Reader's Digest, and the Today show. He lives in Philadelphia with his wife, Caitlin, and their daughter, Amelia.
Coverage from NPR
or
Not Currently Available for Direct Purchase