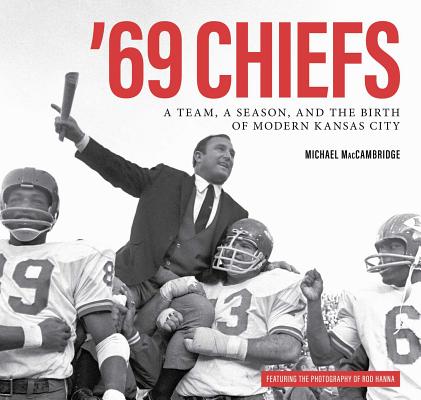 '69 Chiefs
A Team, a Season, and the Birth of Modern Kansas City
Hardcover

* Individual store prices may vary.
Description
'69 Chiefs is a vibrantly written and vividly photographed narrative of the legendary season of the 1969 Kansas City Chiefs' journey to a world championship in Super Bowl IV. Along with an intimate view of the team and their historic season, readers are given a clear perspective of a crucial point in Kansas City's history, when the Heart of America stood on the verge of becoming a thoroughly modern American city.

The year 2019 marks the 50th anniversary of this legendary season in Kansas City sports history—when the Kansas City Chiefs reached the pinnacle of pro football, defeating the Minnesota Vikings in Super Bowl IV to become world champions. Experience the magic of this epic journey through the words of award-winning writer, Michael MacCambridge, and pictures, including a treasure trove of photographs from Rod Hanna, the Chiefs' team photographer during that historic season (many never-before-seen). You'll join the Chiefs on their extraordinary journey, from the heat of training camp at William Jewell College in Liberty, to the adversity of losing quarterback Len Dawson to an early-season injury, to the triumph of upset playoff wins over the defending world champion New York Jets and the arch-rival Oakland Raiders, to the final triumph in Super Bowl IV, after one of the most chaotic Super Bowl weeks ever.
This lavish book documents how the Chiefs revolutionized pro football, transformed the way the rest of the nation saw Kansas City, and helped Kansas Citians see themselves more clearly. Whether you're a longtime Chiefs fan who wants to relive that thrilling season, or a younger Chiefs diehard seeking to better understand why the Chiefs of that era were so beloved, this is the book for you.
 
Andrews McMeel Publishing, 9781524851170, 192pp.
Publication Date: October 22, 2019
About the Author
Michael MacCambridge has written about movies, music, and popular culture, but he is best known as one of the nation's foremost authorities on pro and college football. His book America's Game: The Epic Story of How Pro Football Captured A Nation was named one of the most distinguished works of nonfiction by the Washington Post in 2004. MacCambridge's freelance work has appeared in the New York Times, the Wall Street Journal, the Washington Post, Sports Illustrated, GQ, and many other publications. Since 1997, he has been an adjunct professor at Washington University in St. Louis, Missouri. 
or
Not Currently Available for Direct Purchase