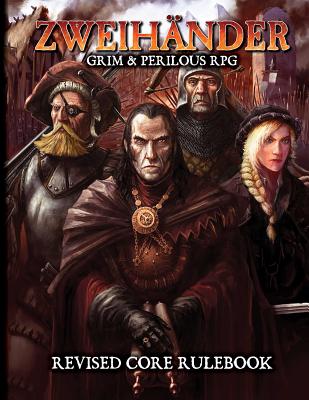 ZWEIHANDER Grim & Perilous RPG (Hardcover)
Revised Core Rulebook
Andrews McMeel Publishing, 9781524851668, 672pp.
Publication Date: June 11, 2019
* Individual store prices may vary.
Description
2018 ENnie gold winner of Best Game and Product Of The Year
, this revised edition features an all-new layout, rules clarifications, and errata updates from 2018.
WELCOME TO GRIM & PERILOUS GAMING 
Featured on Forbes.com, ranked one of the best-selling fantasy tabletop role-playing games at DriveThruRPG, and having sold over 90,000 copies worldwide, ZWEIHÄNDER Grim & Perilous RPG is a bloodier, grimmer, and grittier version of classical tabletop role-playing games. This revised edition is published in celebration with Andrews McMeel Publishing and features a refreshed layout, new artwork, rules clarifications, color plates by Dejan Mandic, and errata. 
ZWEIHÄNDER Grim & Perilous RPG is a game where your characters will:
Live in a gritty, "realistic" fantasy world
Make morally grey decisions & enact vicious reprisals
Uncover insidious plots & political intrigue
Take part in heart-pumping chase scenes
Venture into the wilderness & survive its perils
Desperately fight in clandestine & open field combat
Defend themselves from injuries, madness, & mutations
Encounter sanity-blasting creatures & their minions
Using the Powered By ZWEIHÄNDER d100 game engine, you will create grim characters, write perilous adventures, and build your own low fantasy & dark fantasy campaigns. These rules are a perfect fit for Renaissance and medieval-styled adventures, too. You can also use this book to create your own home-brewed worlds, whether inspired by the works of Andrzej Sapkowski's  The Witcher, George R.R. Martin's Game of Thrones, Glen Cook's Black Company, Myke Cole's The Armored Saint, Robert E. Howard's Solomon Kane, Scott Lynch's Gentlemen Bastard series, or other "grimdark"-inspired media. 
This all-in-one game includes most of what you need to play: a character creation guide, game mastery rules, and a bestiary brimming with creatures both fair & foul. All that's left are a few friends, pencils, and a handful of dice. 
ZWEIHÄNDER Grim & Perilous RPG awaits, and the fate of your grim & perilous tale hangs in the balance!
About the Author
Daniel D. Fox is an author and game designer, having won the gold ENnie for Best Game and Product of the Year at GenCon 2018. Best known for creation of the tabletop game ZWEIHÄNDER Grim & Perilous RPG, his break-out success was featured on Forbes.com and recognized by Kickstarter as one of their Projects We Love. His first game ZWEIHÄNDER is ranked one of the best-selling tabletop games of all time at DriveThruRPG, with over 65,000 copies sold worldwide. He is the founder of Grim & Perilous Studios, an independent publisher of over 30 titles since its inception. Daniel also wrote Dark Astral and MAIN GAUCHE, and is the lead designer for TETSŪBO Grim & Perilous RPG – an all-new tabletop game using the Powered By ZWEIHÄNDER system.

Daniel was featured on the front page of Twitch during Gen Con 2018. His popular website GrimAndPerilous.com hosts numerous articles every week on tabletop game design using the Powered By ZWEIHÄNDER system, while his Twitter @ZweihanderRPG attracts hundreds of designers and creative influencers in the tabletop gaming community. As a full-time digital sellsword, Daniel lives in the heart of Kansas City with his loving wife and rambunctious son. While his career is in advertising with game design a close second, Daniel swears he'll catch up on sleep someday.
 
Praise For ZWEIHANDER Grim & Perilous RPG: Revised Core Rulebook…
Zweihander has managed to do what so many retro-inspired RPGs currently fail at - it both intimately captures the spirit of a certain type of fantasy (in Zweihander's case, the blood-soaked and mud-drenched "dark fantasy" genre) and escapes from its mechanical and social shortcomings. Too often, games inspired by what came before forget that this hobby has grown and changed, and hew too close to outmoded tropes and bad design. Zweihander manages by the grim machinations of its creator, Daniel D. Fox, to forge itself into something both eerily familiar and utterly belonging to the current moment in games. The diverse and beautiful art, the modern and purposeful writing and the powerful sense that this game is a game made not only to pay homage to what came before but to make something new of it all elevate Zweihander above every other retro-clone and nostalgia renaissance game out there. If I want a game about gritty losers trying to make it in a world out to get them, I'm going to reach for Zweihander every time. (Adam Koebel, co-creator of Dungeon World)