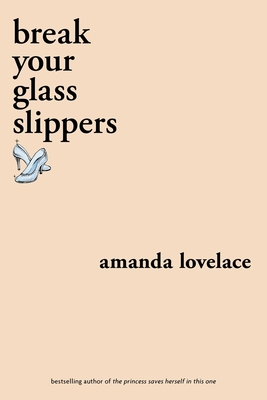 break your glass slippers (you are your own fairy tale)
Paperback

* Individual store prices may vary.
Description
"more forgetting time.
more midnight dances with yourself."

amanda lovelace, the bestselling & award-winning author of the "women are some kind of magic" poetry series, presents a new companion series, "you are your own fairy tale" the first installment, break your glass slippers, is about overcoming those who don't see your worth, even if that person is sometimes yourself. in the epic tale of your life, you are the most important character while everyone is but a forgotten footnote. even the prince.
Praise For break your glass slippers (you are your own fairy tale)…
"Whether or not you read poetry regularly, Break Your Glass Slippers by Amanda Lovelace should be on your must-read list." (Popsugar)

"Break Your Glass Slippers by Amanda Lovelace is a book of poems that inspires you to ignore what others think about you (or what you *think* they think about you) and overcome those who don't see your worth, and making sure *you* see it clearly." (Brit + Co)

"Those who are fans and followers of Lovelace will not be disappointed, as she serves up her unique mix of fairytale references and female empowerment, all distilled down into scant, but impactful words . . . The structure of this collection is smart and truly unique. While many other contemporary poets write on similar topics, Lovelace has found a way to make herself standout." (YA Books Central)

"Ultimately, Break Your Glass Slippers is a thought-provoking collection of poems that cohesively tell a story asking us to see our own value and beauty beneath whatever dirt others may have put there." (The Nerd Daily)

"A catalog of inspirational and emotional poems that aim to help readers find their own journey to self-love, tell their own story, and forget about the people who never saw their worth." (Parade)

"I adore this new take on the Cinderella story. In empowering and inspiring poems, Lovelace turns the fairy tale on its head, in all the best feminist ways." (Ms. Magazine)
Andrews McMeel Publishing, 9781524851897, 160pp.
Publication Date: March 17, 2020
About the Author
amanda lovelace is the author of several bestselling poetry titles, including her celebrated "women are some kind of magic" trilogy as well as her new "you are your own fairy tale" series. she is also the co-creator of the believe in your own magic oracle deck. when she isn't reading, writing, or drinking a much-needed cup of coffee, you can find her casting spells from her home in a (very) small town on the jersey shore, where she resides with her poet-spouse & their three cats.