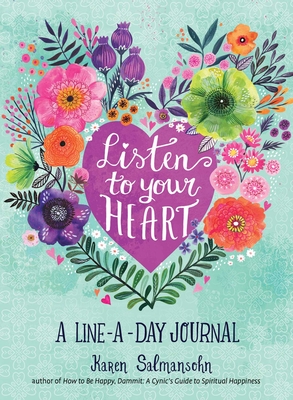 Listen to Your Heart
A Line-a-Day Journal with Prompts
Paperback

* Individual store prices may vary.
Description
From bestselling author Karen Salmansohn (How to Be Happy, Dammit) comes her new book, Listen to Your Heart, a line-a-day journal with prompts - an inspiring guided journal with interactive questions.
beautiful watercolor artwork 
inspirational journal notebook for women, moms, teenagers, beginners to journaling and advanced journalers
use either as a daily journal - or whenever you want - because the pages are not dated
more than just a gratitude journal - each prompt inspires reflection on self-care, intuition, love, success  -  a wide range of life-improving and self-help topics
creative journal for brainstorming ways to make money, improve relationships, reduce stress, boost health, and support greater mental health
Praise For Listen to Your Heart: A Line-a-Day Journal with Prompts…
"Salmansohn reminds us that in life, we are in charge of our own destiny. We have the power to overcome through gratitude, humor and courage." (Tony Robbins, New York Times Bestselling Author)

"Karen is an expert on psychological research studies to help you not only recover from the tough times, but also bounce back to an even higher level than your previous bests." (Tim Ferriss, New York Times Bestselling Author)

"Karen packs a library's worth of proven insights into all she does. For anyone mired in the dumps – or who just wants to live more joyfully – Karen's for you!" (Gretchen Rubin, New York Times Bestselling Author)

"Karen's writing is like Paxil without the side effects. If you've been sucker-punched by life (in other words, if you're human), Karen gives you empowering, user-friendly tips to deal with it. The very act of reading her writing will make you feel happier." (A.J. Jacobs, New York Times Bestselling Author)

"Salmansohn's writing is bold, playful, insightful – with powerful metaphors that provoke and inspire. Her kinetic images amplify her message and take her books to a new level of literary experience." (Deepak Chopra, New York Times Bestselling Author)

"If you're not happy with what you're getting, maybe you need a whole new plan. Karen Salmansohn offers you one. Start now!" (Seth Godin, New York Times Bestselling Author)

"Karen Salmansohn is a creative force of nature. I love her insights and relentless commitment to helping people live happy and successful lives. Her smart sense of humor and unusual metaphors make changing your life not only do-able but, totally fun. I simply adore her!" (Marie Forleo, founder The B School)

"Salmansohn's got sass and shine! Her work sparks people to wake up, and at the same time, gives the comfort of perennial wisdom — such a divine combo. Sass and shine, in the best packaging!" (Danielle LaPorte)

"Life is full of surprise challenges – and Karen Salmansohn offers informative research from the world of resiliency psychology to help ensure you bounce back from tough times stronger, better, happier!" (Marci Shimoff, New York Times Bestselling Author)

"Salmansohn's advice for regaining your footing after a life set back is smart, do-able and even fun." (Lucy S. Danziger, Editor-in-Chief, SELF Magazine)
Andrews McMeel Publishing, 9781524855666, 136pp.
Publication Date: May 12, 2020
About the Author
KAREN SALMANSOHN is the best-selling author of more than 25 books with over 1 million copies sold. She has been a featured happiness expert on the Today show, The View, CNN, Fox News, Real Time with Bill Maher, and is an online columnist for Oprah, Psychology Today, AOL, and the Huffington Post. She and her work have been covered by the New York Times, Businessweek, Chicago Tribune, L.A. Times, Philadelphia Inquirer, Time, Marie Claire, Fast Company, InStyle, Self, Elle, and the New Yorker. Salmansohn has also worked as an image consultant for MTV, Nickelodeon, Oxygen Media, and L'Oreal and speaks on how to increase happiness, creativity, and productivity, most recently in the TEDx talk, "Fun Is a High Performance Fuel."
or
Not Currently Available for Direct Purchase