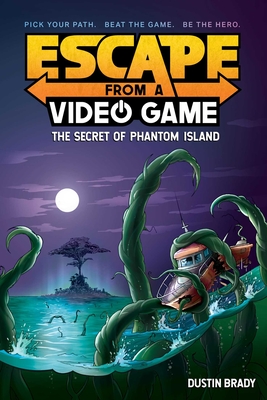 Escape from a Video Game
The Secret of Phantom Island
Hardcover

* Individual store prices may vary.
Other Editions of This Title:
Paperback (4/20/2021)
Hardcover (4/20/2021)
Paperback (9/1/2020)
Description
Young gamers control the action in this interactive new series from the bestselling author of Trapped in a Video Game. With more than 30 endings and an unlockable bonus adventure, The Secret of Phantom Island promises hours of screen-free fun.

Cooper Hawke and the Secret of Phantom Island is the greatest video game nobody has ever played. The treasure-hunting adventure was supposed to set a new standard for gaming. Then, just one month before its release date, it fell off the face of the earth. 

Now, for the first time, you get a chance to play the mysterious game—from the inside. As you outsmart enemies, solve puzzles, and explore the island's hidden areas, you'll discover that there's more to this game than the world realized. 

Escape from a Video Game is an innovative pick-your-plot story that promises two adventures for the price of one! The main adventure builds critical thinking skills by rewarding young readers for solving puzzles and making sound choices with non-stop action and huge plot twists. Once readers beat the video game within the book, they'll get a chance to hunt for every possible ending. Finding all the book's endings reveals a code that readers can use to unlock a secret story online.

Fans of the best-selling Trapped in a Video Game series, as well as new readers, will quickly come to appreciate the page-turning action to uncover more secrets about the mysterious video game company Bionosoft.
 
Praise For Escape from a Video Game: The Secret of Phantom Island…
"Folks, let me tell you, this book is ridiculously fun. Like, it's WAY better than it has any right to be. I read it aloud to my 9-year-old son at bedtime, letting him make all the choices and solve all the puzzles. Not only was he asking for more each night... but I was all too happy to oblige! The choices, puzzles, items, plot twists, and boss battles you encounter in the book are straight out of a classic platformer, and Brady does an amazing job at making the book feel like a game." (Jamie Greene, The Roarbots)

"An engrossing ride for die-hard 'Choose Your Own Adventure' fans and video game devotees." (Sarah Webb, School Library Journal)

Dustin Brady's books are a treasure for anyone who is struggling with a reluctant reader. The writing is fun and extremely engaging. As an educational therapist, I work with reluctant readers all the time, and I have had so much success using his books to teach not only fundamental decoding skills but also comprehension. The greatest gift you can give a child is to foster the love of learning, and Dustin Brady has been able to do that with countless children. (Stephanie Pitts, M.Ed., CEO and Educational Therapist at My Ed Therapist)
Andrews McMeel Publishing, 9781524858872, 176pp.
Publication Date: September 1, 2020
About the Author
Dustin Brady writes funny, action-packed books for kids. Although he regularly gets locked out of his own accounts for forgetting passwords, Dustin still remembers the Super Mario Bros. 3 game genie code for infinite lives. It's SLXPLOVS. Dustin lives in Cleveland, Ohio, with his wife, kids, and a small dog named Nugget.