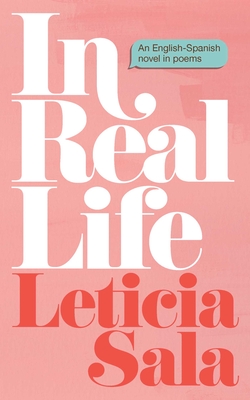 In Real Life
An English-Spanish Novel in Poems
Paperback

* Individual store prices may vary.
Description
In Real Life: An Online Love Story is the first of its kind—a bilingual novel-in-poetry written by popular Spanish-language poet Leticia Sala. In Real Life is not only about a young Barcelona woman who finds romance online thousands of miles away in New York City, it is also an ode to the titanic effort required in staying loyal to a commitment and her own individuality in the silicon age.

Told in a poetic key, the fate of this couple, whose relationship begins with love at first like, offers a fractured mosaic of essential moments crowded with insecurities and urban neuroses, both contemporary and universal. The characters in the work of Leticia Sala seek light in the chaos churned out by modern culture and are always treated by the author with compassion, regard, and respect for their unfolding desires.

In Real Life captures our infatuation with technology and finding new ways of relating to one another, our fascination with travel and language, and our age-old obsession with that right to love and feel loved.
 
Praise For In Real Life: An English-Spanish Novel in Poems…
"In Real Life was an extremely relatable and emotional poetry collection. It talks about long distance love in such a genuine and honest way that you can't help but root for Leticia and Pau….I highly recommend this to any poetry lovers or simply to anyone who's ever had a long distance relationship."
  (NetGalley)
Andrews McMeel Publishing, 9781524859572, 224pp.
Publication Date: September 1, 2020
About the Author
Leticia Sala writes poetry and prose. Her first book, Scrolling after Sex, was published in 2018. She is a regular contributor to Vogue Spain, for which she writes poems as well as think pieces. She is also a screenwriter and lyricist. She finds ideas in flowers, airplanes, and supermarkets. Leticia lives in Barcelona with her husband, Pau, and their dachshunds, Greta and Science. This is her second book and literary debut in the United States.