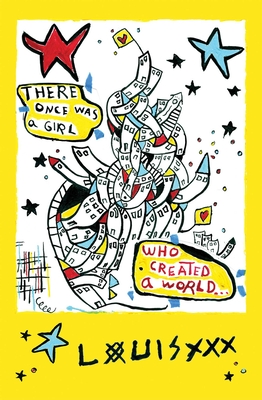 There Once Was a Girl Who Created a World
Paperback

* Individual store prices may vary.
Description
Slip into the remarkable world of Louis XXX's visual poetry, which finds simplicity in the infinite and infinity in the simple.
 
"Louis's books just plain make life better." —Greg Behrendt, author of the New York Times #1 bestseller He's Just Not That Into You

Self-published poet and painter Louis Cannizzaro invites you into a universe of playful and haunting poetry with There Once Was a Girl Who Created a World, his most enchanting collection to date. Using his famous and immediately recognizable art and resonant poetry, Cannizzaro paints a world that is sometimes whimsical and sometimes poignant, often set in a city, under the stars, or the bright afternoon sun.
 
Praise For There Once Was a Girl Who Created a World…
"You're the reason I see such beautiful things," writes Louis to his sweetheart near the end of Have Faith.  A simple statement, but ravishing, and infinite in its reach.  And that pretty much sums up Louis and his irresistible words and images: immensely charming, for sure, and beguilingly humble, but suffused with passion, perception, and humanity.  You might not expect so much, at first—the primary colors, the plaintive scrawl, the pasted-up collage might seem like trifles—but then you're caught by the heartbreaking eloquence of, say, a star bending toward earth, or startled by the insight of a phrase that then lingers in your mind for a month, or struck to the heart by a city skyline lonely for an absent love.  The world Louis lives in, and cheerfully invites us to share, is at once "dark and beautiful" and full of light, it's sweet, funny, mournful, lonely, profound, and replete with the yearning and ardor and wonder that maybe you'd forgotten how to feel.  He is the reason we see such beautiful things."
  (Brian Yorke, Pulitzer and Tony Award Winning Playwright of "Next to Normal" and Developer and Producer of "13 Reasons Why" TV series)

Allen Ginsberg once said, "Most information… least syllables!" Louis Cannizzaro took his advice.  I could write this book off, simply as a "fun" or "cute" book.  It is both… but Louis' book is more.  I hate to read, but went through Louis' book in half an hour.  If I hadn't gotten stuck, looking closely, at every detail & coming to crazy conclusions & personal reflections on them, I probably could have done it in 10 minutes.  The point is, I got stuck on it because it meant more (to me).  I saw myself on fire escapes, in love… home! I revisit his book here and there for thoughts of romantic grandeur and then I take a walk.  It feels good.  (Dito Montiel, Author, Screenwriter, and Director of "A Guide to Recognizing Your Saints")

Reading a book by Louis is like slowly discovering the left behind treasures of two lost lovers.  Raw, jagged and mysterious, they can seem inaccessible at first, but all of a sudden they start to add up to something more… something beautiful. (Jeff Lemire, Eisner Award winning artist and the author of the Essex County Trilogy, Sweet Tooth and The Nobody)
Andrews McMeel Publishing, 9781524860127, 88pp.
Publication Date: September 29, 2020
About the Author
"Everyday the world arranges itself into a poem. It's a miracle." Louis Cannizzaro is an American poet, artist, and author. His work is in collections all over the world. He has had shows in Paris, New York City, Los Angeles, and Aspen. His work has appeared in magazines such as SNAX Magazine, Rolling Stone, Vanity Fair, and he was the cover artist for the European art journal Exhibit A. 
or
Not Currently Available for Direct Purchase