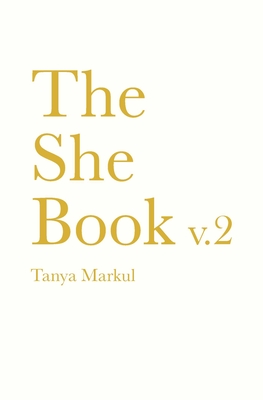 The She Book v.2
Paperback

* Individual store prices may vary.
Description
An intimate collection of modern prose, poems, and quotes about surviving dark times. It's about telling your story...

A resilient journey through a season of loneliness, as cycle of heartache, and a year of depression–this is what she unexpectedly found within the depths of her brokenness and how she emerged stronger.
This book unapologetically explores the feeling, healing, and revealing of depression and the power of asking for help and being open to receiving support from nature and others, while giving a creative and empowering voice to emotional pain.
As I wept
in the arms of darkness,
I heard the voice of my grandmother say, Nothing stays the same, darling,
not even pain.
Life is a path of change.
Of ecstasy and ache.
So, no matter what the storm claims,
let love light the way.
Praise For The She Book v.2…
"A beautiful, evocative collection bursting full of potent prose and poetry." (Goodreads)
Andrews McMeel Publishing, 9781524860813, 176pp.
Publication Date: June 30, 2020
About the Author
Writer Tanya Markul, also known as @ThugUnicorn, has self-published The She Book with much success, and aims to help her large audience grow from struggle to sparkle with every word she writes. Markul's work inspires readers to find power in their sensitivity, care in their vulnerability, sparkle in their suffering, imagination in their imperfections, and un-shame their pain into soulful purpose.