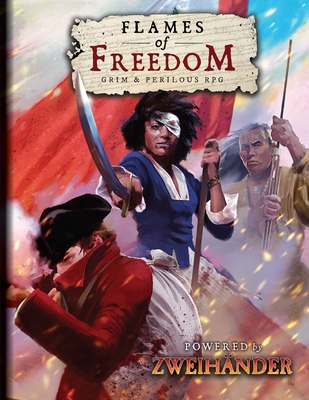 FLAMES OF FREEDOM Grim & Perilous RPG
Powered by ZWEIHANDER RPG
Hardcover

* Individual store prices may vary.
Description
FLAMES OF FREEDOM is an American Gothic horror tabletop role-playing game, Powered by ZWEIHÄNDER RPG.

It is the dawn of the American Revolutionary War of 1776. A tangled web of conspiracy spans North America. It does not matter what your creed, color, culture, faith or gender is—all stand together in the war for survival. Every Rebel patriot holds Thomas Paine's Common Sense aloft as they take up arms against the British Empire. The city of Boston is occupied by the Red Coats, surrounded by Rebel militias. But as the revolution has begun, something far more mysterious stirs.

Agents of the occult entreat both the Continental Army and British Empire. Freemasons conspire in the City of Brotherly Love. Maryland is in the throes of a witch hunt by the Knights Templar. Amid the chaos, other grim fairy tales have emerged.

Ghouls have been tunneling beneath Boston. There are sightings of witches in the Great Dismal Swamp. Indigenous sachem speak of devils who walk among the living. The Leeds Devil haunts the Pine Barrens of New Jersey. And worse still, a shadowy collective called "The Mandoag" seeks to consume all, Loyalists and Rebels alike.

In this game, most people have either chosen to deny the supernatural or rationalize it away. A rare few accept it for what it is to act. You are among those heroes and destined for greatness… or death. 

This alternative history game includes most of what you need to play: a player's handbook, a game master's guide, a bestiary, and an introductory adventure set in Boston. All that's left are a few friends, pencils, and a handful of dice.
Praise For FLAMES OF FREEDOM Grim & Perilous RPG: Powered by ZWEIHANDER RPG…
"...For fans of this era of history, or tabletop gamers looking to do something a little different with their next campaign, Flames of Freedom should be on your wish list." (Forbes)

Polygon Recommends:  "Flames of Freedom tabletop RPG mixes Hamilton with Stranger Things … one of the best new TRPGs released this year." (Polygon)

"The battle against the lurking occult horror and the tangled web of conspiracies that lace North America gets the thumbs up from me …" (GeekNative)
Andrews McMeel Publishing, 9781524862510, 672pp.
Publication Date: October 12, 2021
About the Author
There was a small boy who created his first board game using Lincoln Logs and action figures. His friends liked it and soon he went to work creating more. It was then the small boy decided that somehow, or someway, he would create games for as long as he lived.  As the little boy grew, he found himself trapped in a dungeon with a dragon. Finding a path he followed it out of the dungeon and still follows it to this day.  He has designed many games and won a few awards, but the one he is proudest of is FLAMES OF FREEDOM.

Daniel D. Fox is the executive creative director of games at Andrews McMeel Publishing. He won two gold ENNIE Awards at Gen Con for Best Game and Product of the Year with his fantasy horror game ZWEIHÄNDER Grim & Perilous RPG. He is the lead developer for Main Gauche RPG, Flames of Freedom: Grim & Perilous RPG, ZWEIHÄNDER Fantasy Horror RPG Starter Kit, and Fever Knights RPG. He also edited James Introcaso's Eternal Night of Lockwood and Ryan Verniere's new horror-fantasy Blackbirds RPG. When Daniel isn't working on tabletop RPGs, he's enjoying his other favorite hobby: cafe racer motorcycles. He lives in the City of Fountains with his wife, Ali, and their two young kobolds.

On dark, moonless nights, you can find DEJAN MANDIC lurking desolate streets of Belgrade, Serbia. Confronted, he will claim that he is walking his dog, but we all know that he really should be working on new drawings for Grim & Perilous worlds.

Having survived two wars and countless riots, Dejan lost interest in reality and prefers spending time inside his illustrations. Dog's name is Molly.

Ken Duquet is a Basic Tier Peasant, making the most of his 'More Work?' and 'Supernatural Paranoia' Talents.

When he's not working, you can find him farting with open derision in his squat hut, moss-coated and rocky, brooding eternally over his portfolio in the lee of great granite ledges.

Anna Goldberg is a writer, editor, and ttrpg streamer living in the Pacific Northwest. She has a degree in English from the University of Florida and did her graduate fellowship there in Early American Literature, with a focus on gender and sexuality studies. She never expected studying Puritan smut could get her a job in ttrpgs, but she's happily surprised it has! Anna is also the cofounder of the Disability Readathon, a month-long event dedicated to celebrating books and media by, for, and about disabled people. When she's not editing, you can also find her streaming ttrpgs on Twitch, usually in cosplay, always with feeling. Her dooming? Beware the soup brewed of Chaos, for it brings nothing but thirst.

ADAM J. ROSE is the principle and event manager of Grim & Perilous. His contributions to ZWEIHÄNDER Grim & Perilous RPG, written by Daniel D. Fox, helped win the gold ENnie for Best Game and Product of the Year at Gen Con 2018. He also manages the Grim & Perilous Patreon, where they create actual play and technical articles about tabletop RPGs Powered by the ZWEIHÄNDER d100 game engine.

When he isn't attached to his keyboard, he spends time creating scores for independent films, playing board games, and driving muscle cars.