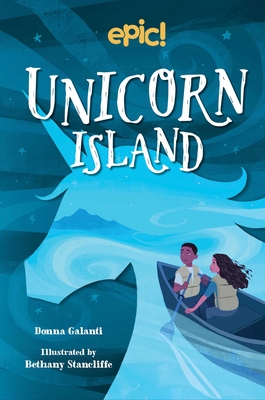 Unicorn Island
Hardcover

* Individual store prices may vary.
Description
Beyond the mist lies a magical secret waiting to be discovered . . . From Epic! Originals, Unicorn Island is a middle-grade illustrated novel series about a young girl who discovers a mysterious island full of mythical beasts and darker dangers!
When Sam arrives in Foggy Harbor, population 3,230, all she can see is a small, boring town that's way too far from home. And knowing that she's stuck there all summer with her grumpy Uncle Mitch only makes things worse. 
But when Sam discovers a hidden trapdoor leading to a room full of strange artifacts, she realizes Foggy Harbor isn't as sleepy as it seems. With the help of a new friend, Sam discovers an extraordinary secret beyond the fog: an island of unicorns whose fates are intertwined with hers. 
Epic! Original: the leading digital library for kids, used by over 10 million in homes and schools
Expert Approved: vetted by educational experts to ensure high-quality, age-appropriate material
Bonus Educational Section: features interesting facts about the story in a More to Explore section
Andrews McMeel Publishing, 9781524864705, 224pp.
Publication Date: February 9, 2021
About the Author
Donna Galanti wanted to be a writer ever since she wrote a mystery screenplay at seven and acted it out with the neighborhood kids. She attended an English school, housed in a magical castle, where her wild imagination was held back only by her itchy uniform (bowler hat and tie included!). There, she wrote her first fantasy about Dodo birds, wizards, and a flying ship––and has been writing fantasy ever since. She's lived in other exotic locations, including her family-owned campground in New Hampshire and in Hawaii where she served as a U.S. Navy photographer. She now lives with her family and two crazy cats in an old farmhouse and dreams of returning one day to a castle. Donna is the author of the middle-grade fantasy adventure, Joshua and The Lightning Road. She is also a writing contest judge, guest author at schools, and a teacher at writing conferences on marketing and craft. 

Bethany Stancliffe is a Central-Washington-based artist who grew up in the Rockies, where she spent her time building tree forts, reading fairy tales, and filling up sketchbooks. Having had a spectrum of creative interests since childhood, she has found a home in illustration, where design and storytelling meet. Following in the footsteps of her parents, Bethany studied art and illustration at BYU-Idaho. She draws most of her inspiration from nature, films, and childhood adventures and has a love for interesting textures and patterns. When she's not painting, she enjoys exploring outside with her son, Max, and creating original stories with her husband.