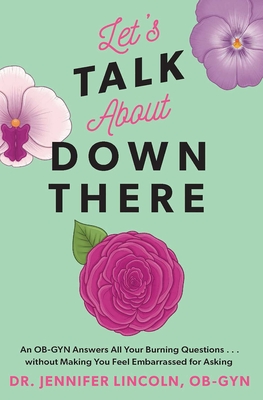 Let's Talk About Down There
An OB-GYN Answers All Your Burning Questions…without Making You Feel Embarrassed for Asking
Paperback

* Individual store prices may vary.
Description
A shame-free, illustrated guide for people with vaginas—from periods to basic hygiene to safe sex—from TikTok's Dr. Lincoln.

Dr. Lincoln has been sharing her expertise as an OB-GYN to her millions of followers on TikTok, and now in this accessible, illustrated guide she answers real questions about vaginal, sexual, and reproductive health for fans and new readers alike.

Let's Talk About Down There is like the health class you wish you had—think evidence-based, myth-busting sex ed where shame gets tossed out the window—in a format that's as approachable as a fifteen-second video. Addressing topics such as hormones, menstrual cups, and birth control, all with the help of infographics and illustrations, this succinct, vibrant handbook answers the questions that you may have been too embarrassed to ask, so you'll be empowered to make more informed health choices and truly care for yourself.
 
Praise For Let's Talk About Down There: An OB-GYN Answers All Your Burning Questions…without Making You Feel Embarrassed for Asking…
I absolutely love "Let's Talk About Down There!" This book is beautiful, informative, and welcoming. It answers so many questions that we have about our bodies, from common myths to out-there social media claims. When I received it and my husband and I read through it (both doctors!) we said, "wow, we had to go to medical school to learn this stuff, no one else should have to do that to know basic things about health and sexuality!" I will be sharing this book with my friends and family, and as an OB-GYN, highly recommending it to my patients. Thank you Dr. Lincoln! (Dr. Marta Perez)

"This resource is a perfect addition to your sexual health toolkit, whether you have a vulva or not… Resources like this are dismantling harmful myths, keeping us informed and better able to live safer, more satisfying sexual health journeys." (Sex Positive Families)
Andrews McMeel Publishing, 9781524865764, 224pp.
Publication Date: September 14, 2021
About the Author
Dr. Jennifer Lincoln is a board-certified OB-GYN who currently practices as an OB Hospitalist and an International Board Certified Lactation Consultant (IBCLC) in Portland, Oregon. Dr. Lincoln loves using social media to provide evidence-based, easy-to-digest information while busting the (many) myths surrounding vaginal and reproductive health. She believes that breaking down the shame and stigma surrounding our bodies is the best way to become informed and empowered. She is married to a pediatrician, and together they have two young boys (who will definitely be reading this book at some point).