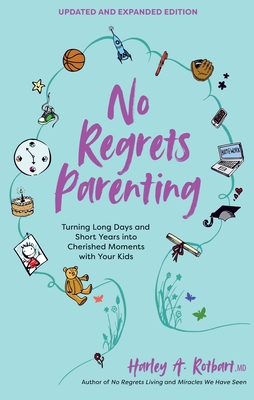 No Regrets Parenting, Updated and Expanded Edition
Turning Long Days and Short Years into Cherished Moments with Your Kids
Paperback

* Individual store prices may vary.
Description
For every type of family, this revised and expanded edition is the quintessential, open-to-all parenting guidebook, guaranteed to help you find more time for your kids and for yourself.

It's not how much time you have with your kids, but how you spend that time that matters. By pediatric doctor, celebrated author, and parenting genius Harley Rotbart, No Regrets Parenting, Updated and Expanded Edition offers the chance to shift perspectives and priorities. With the goal to help the modern parent juggle family responsibilities, professional lives, and personal lives, No Regrets Parenting is all about time—finding enough of it and making the most of it. Car pool, bath time, soccer practice, homework, dinner hour, and sleepovers all become more than just obligations and hurdles to overcome to get through the day.

Accompanying his tried-and-true advice, Dr. Rotbart has included new content to address the ever-changing needs of families, taking unprecedented pandemics into account, along with the new challenges parents are facing. No Regrets Parenting, Updated and Expanded Edition answers the overwhelming questions: How can you do it all and, most importantly, how can you stay sane while doing it all?
Andrews McMeel Publishing, 9781524870577, 304pp.
Publication Date: September 28, 2021