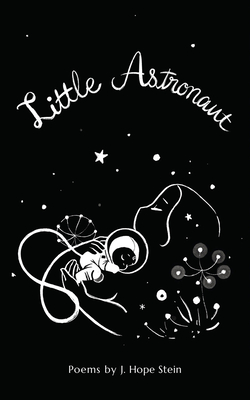 little astronaut
Hardcover

* Individual store prices may vary.
Description
A poetry collection about the beautiful and disorienting period of new motherhood, exploring an experience both otherworldly and very, very human. 

little astronaut is a fully revised and updated edition of the limited-release poetry collection by critically acclaimed poet J. Hope Stein. Featuring over 50 pages of new poems this book brings to vivid life the deeply personal—and also incredibly relatable—challenging and magical early days of new motherhood.
Praise For little astronaut…
J. Hope is one of my favorite poets. little astronaut is a beautiful orchestration of the strange experience we call human. There is humor here and wisdom. This astronaut shows us how to find, among the most mundane details, a little bit of magic. In our era of so much destruction and disappointment, what luck to come across this bundle of laughter. (Ilya Kaminsky, author of Deaf Republic)

In little astronaut, J. Hope Stein writes a parental love so new to her, so overwhelming, that the poems read almost as if Stein were the first person to feel parental love at all. Rarely do such poems so thoroughly inhabit the moment. These poems convince me, effortlessly, that I am seeing the world new. (Shane McCrae, author of The Gilded Auction Block and Forgiveness Forgiveness)

The brave, electric, hilarious and indelibly true poems of little astronaut convey the utter shock that is, has always been, and will always be…parenthood. (Jean Hanff Korelitz, author of New York Times bestseller The Plot)

I want to buy little astronaut for every mother I know . . . No one talks about what comes next once you have the baby and what you go through and what's expected of you, but J. Hope Stein does in this courageous collection. (Sharon Van Etten, singer song-writer)

Jen Hope Stein evokes Elizabeth Bishop, Philip Larkin, Nora Ephron but in a style so totally her own. I read this collection, choked-up, laughing, and in awe. (John Mulaney, comedian and writer)

I love this book. Very little has captured, for me, the lived experience of parenting like these poems. I think about "The Now Clock" 72 times a day. If that's all this book had, it would be more than worth it. But it isn't. You'll see. (Ezra Klein, Host of New York Times' The Ezra Klein Show)

little astronaut is such a vulnerable and important book. It really connects being a mother and a person with evolution and the way in which we are all animals but have higher aims…A vulnerable look, unafraid of being judged. (Brian Koppelman, host of The Moment)

I loved little astronaut, a brilliant and searingly honest exploration of new motherhood and marriage amid new motherhood. (John Green, New York Times bestselling author)

A brilliantly wrought one-inch punch of a collection. Eclectic, funny, and tender in a way that shows off Stein's many, many gifts. (Alex Edelman, stand-up comedian)

J. Hope Stein's celestial collection, Little Astronaut is, among many things, a captivating exploration of the vast array of communication made beyond language—from the "linguini of drool" forming an umbilicus between an infant's mouth and the tip of her mother's nose, to a mother's frightened attempt at whale song to ward off an encroaching stranger, to the loving glances shared by husband and wife. Stein deftly zooms in and out of these experiences, showing us how parenthood can make one feel both extraordinary and insignificant. She writes, "The way an astronaut sees / the earth from space, and understands / life for the first time, / that's how it feels when I look at my daughter." (Paige Lewis, poet)
Andrews McMeel Publishing, 9781524872205, 96pp.
Publication Date: September 20, 2022
About the Author
J. Hope Stein is a poet whose work has been featured in the New York Times, the New Yorker and on Broadway. She lives in New York.