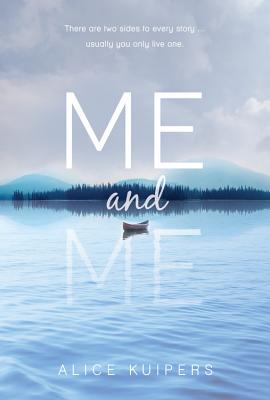 Me and Me (Paperback)
Kids Can Press, 9781525301414, 248pp.
Publication Date: October 2, 2018
Other Editions of This Title:
Hardcover (10/2/2018)
* Individual store prices may vary.
Description
It's a perfect day for Lark's dream date with Alec from school. Blue skies, clear water, a canoe on the lake. Alec even brought flowers for Lark's birthday. Everything is just right ... until they hear screams from the edge of the water.

Annabelle, a little girl Lark used to babysit, is struggling in the reeds. When Lark and Alec dive in to help her, Alec hits his head on a rock. Now Annabelle and Alec are both in trouble, and Lark can only save one of them.

With that split-second decision, Lark's world is torn in two, leaving her to cope with the consequences of both choices. She lives two lives, two selves. But which is the right life, and which is the real Lark?

Me and Me is about how it feels to be torn in pieces, and how to make two halves whole again. This mind-bending novel from Alice Kuipers, expert chronicler of the teenage heart, explores loss and love, music and parkour, all while navigating the narrow space between fantasy and reality.
About the Author
Alice Kuipers is the award-winning, bestselling author of four previous novels, Life on the Refrigerator Door, The Worst Thing She Ever Did, 40 Things I Want to Tell You and The Death of Us, as well as two picture books. Her work has been published in thirty-two countries. She lives in Saskatoon.
Praise For Me and Me…
A mesmerizing and mysterious ride ... Me and Me is absolutely irresistible.—Teresa Toten, bestselling author of The Unlikely Hero of Room 13B

Both page-turning and thought-provoking, Kuipers deftly tells a lyrical tale that'll keep you questioning reality right up to the very end.—Arthur Slade, author of Flickers

Another intriguing, high-stakes tale from Alice Kuipers, consummate risk-taker, inimitable story-maker.—Hadley Dyer, author of Johnny Kellock Died Today

Alice Kuipers has a way of drawing me under, drowning me in so many layers of emotion, that I hold my breath while I read Me and Me. I loved this intense and wonderful book!—Bif Naked