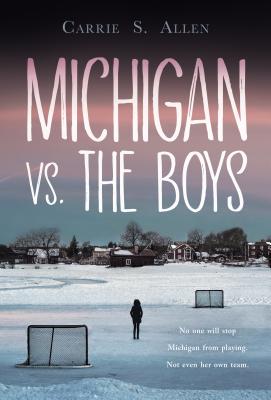 Michigan vs. the Boys
Hardcover

* Individual store prices may vary.
Description
When a determined girl is confronted with the culture of toxic masculinity, it's time to even the score.Michigan Manning lives for hockey, and this is her year to shine. That is, until she gets some crushing news: budget cuts will keep the girls' hockey team off the ice this year.If she wants colleges to notice her, Michigan has to find a way to play. Luckily, there's still one team left in town ...The boys' team isn't exactly welcoming, but Michigan's prepared to prove herself. She plays some of the best hockey of her life, in fact, all while putting up with changing in the broom closet, constant trash talk and "harmless" pranks that always seem to target her.But once hazing crosses the line into assault, Michigan must weigh the consequences of speaking up --- even if it means putting her future on the line.
Praise For Michigan vs. the Boys…
Michigan vs. the Boys is a mature exploration --- with no sugarcoating --- of some of the struggles a female goes through playing male-dominated sports. A must-read for those who want to break down barriers in sport.—Cassie Campbell-Pascall, the only Canadian Captain, male or female, to lead two Olympic hockey teams

Michigan vs. The Boys is a powerful story about a girl who's strong enough to play the game, and, more importantly, do the hard thing and stand up for what's right.—Sara Biren, author of Cold Day in the Sun

... an exhilarating run, as debut author Allen creates a wonderfully authentic hockey world.—Kirkus Reviews

The book's power comes from highlighting the pain and abuse that barrier-breaking women endure in a male-driven field ...—Booklist

Carrie Allen achieves the hat trick in her debut novel, scoring with a humorous and heartfelt writing style, a tough-as-nails heroine any reader would be proud to champion, and a solidly-constructed story that honestly examines the costs and benefits of taking a stand. A much 'bigger' book than I expected going in, this is a must-read for all adolescents - not just hockey fans - about navigating difficult choices in life and deciding when enough is enough. Bonus points for a super sweet romance that proves nice guys don't always finish last!—Karole Cozzo, author of How to Say I Love You Out Loud

This timely sports story is an uncomfortable read but a necessary one ...—School Library Journal

Michigan's battle is universal as well as personal, and its empowering message is one that speaks to any girl trying to prove that, yes, indeed, girls can.—CM Magazine

... an excellent read for high school students and young adults, regardless of gender.—ABQLA
Kids Can Press, 9781525301483, 304pp.
Publication Date: October 1, 2019
About the Author
Carrie S. Allen grew up in the Colorado mountains, at 10 000 feet elevation. She worked as a certified athletic trainer, first in a high school, and then in collegiate sports medicine. She lives in Colorado Springs with her husband, kids and dogs. When she's not acting as an unpaid chauffeur, she writes about athletes. Not female athletes, but athletes who happen to be female.
or
Not Currently Available for Direct Purchase