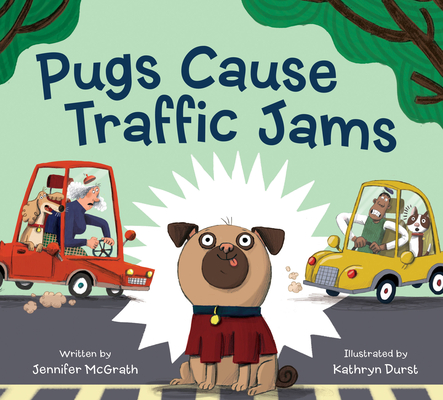 Pugs Cause Traffic Jams
Hardcover

* Individual store prices may vary.
Description
Mayhem abounds in this romp of a story about a girl's search for her missing dog --- and about the dog who's just chasing a wild adventure!

A girl races all over town looking for her lost pug, Kirby. As she asks one dog owner in town after another if they've seen her missing pet, readers are treated to poetically succinct depictions of every dog breed the girl comes across in the neighborhood. "Golden retrievers are pleasers. Poodles are overachievers. Border collies are always on the job." While at the same time, each alternating spread reveals the story of where her dog actually is, defined by the repeated phrase "But pugs cause traffic jams!" It's a dog's world of fun all around! Who could resist falling in love with this pug? (Hint: no one!)

Award-winning author Jennifer McGrath has crafted a funny, clever ode to the world's most beloved pets. The repetitive pattern of the catchy refrain "But pugs cause traffic jams" is sure to have children reciting it on cue, making this a lively storytime choice. Kathryn Durst's richly colored illustrations of the dogs and their perfectly paired people keep the visual interest high, while the speech bubbles add humor and energy. This delightful picture book with a strong focus on community is one that's sure to get children talking about dogs they have known, making it an easy jumping-off point for exploring animal traits and the unique characteristics of different dog breeds. It would also work well as a writing prompt for children to create their own descriptive dog or pet stories.
Kids Can Press, 9781525303401, 32pp.
Publication Date: May 3, 2022
About the Author
Jennifer McGrath is an Atlantic Canadian author of several books for children including The Snow Knows, winner of the Marilyn Baillie Picture Book Award. Jennifer loves dogs of all kinds and lives in Hillsborough, New Brunswick, with Tikka the Labrador retriever (as well as a cat, a fish and a pony).
Kathryn Durst is a children's book illustrator who lives in Peterborough, Ontario, with her grumpy mini dachshund named Chili Dog. With a degree in animation from Sheridan College, she has worked with various animation studios, including an internship with Pixar Animation Studios. Kathryn now works full time as a children's book illustrator, and you can find her work in Hey Grandude! and Grandude's Green Submarine, written by Paul McCartney.