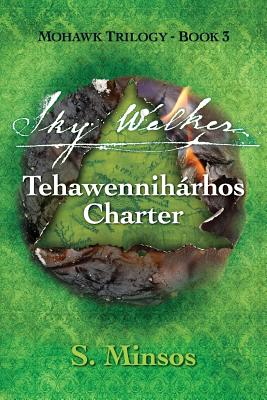 Sky Walker Tehawennihárhos Charter (Mohawk Trilogy) (Paperback)
FriesenPress, 9781525518539, 432pp.
Publication Date: January 8, 2018
* Individual store prices may vary.
Description
Sky Walker Tehawennih rhos Charter is the final book of the Mohawk trilogy, which covers a year-in-the-life. 1845-46. The Grand River Navigation Company has many steamboats and rafts on the river but the Navigation is in debt and has bankrupted the Haudenosaunee/Six Nations Confederacy.

The company does not pay dividends nor give any return to investors. Jeddah Golden, Jennet Ferguson and Squire Tehawennih rhos Davis scramble to secure their own finances. Each wishes, moreover, to make a lifestyle change. Jeddah wants peace and quiet and a woman to love but he hunts for Bride Munny anyway, she who has run away from his farm in Uxbridge.

Jennet wants to find Squire but at the same time she longs to turn into that woman, the brave soul who rises above a numbing winter existence on a Canadian farm. The thought of owning land within Six Nations Territory possesses Squire but to fulfill his dream he needs friends and allies. He wonders why Jennet has not answered his letter. Matters get resolved but not before each protagonist faces his or her demons in a time-honoured test of character....