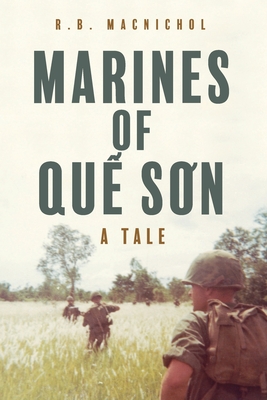 Marines of Quế Sơn
A Tale
Paperback

* Individual store prices may vary.
Other Editions of This Title:
Hardcover (7/20/2021)
Description
In 1967, during the Vietnam War, there is a place of deadly fighting, strange sightings and rumors, and whispers of hidden treasure, it is known as the Quế Sơn Valley. As the war intensifies, a Marine patrol is ambushed, men are wounded; one vanishes without a trace. Another patrol kills a Viet Cong Tax Collector; a curious map is removed from his body. Elsewhere, Marines confront and kill an enemy squad; they discover an unsigned letter written by an American. Later, the Marines kickoff Operation Hillandale; Bravo Company will use explosives to destroy enemy caves inside Hill 270.

350 miles to the south, Ryan, a former Marine turned civilian, is working in Saigon and has fallen in love with V n, the beautiful daughter of a powerful South Vietnamese general. When the couple decides that Ryan needs her father's approval to marry and go to America, circumstances plunge him into the middle of the mystery and chaos of Quế Sơn once again; a place he vowed never to revisit-but now he must. A typhoon disrupts his flight out of Saigon. Grounded in Chu Lai, he continues overland under the cover of extreme weather to avoid the enemy.

Based in part on real events; interrogators, secret agents, hidden agendas, gritty Marines, ancient treasure, Ryan and V n, a missing man, a recon team fighting to survive, the general and a mountain full of explosives, all become entangled in this story of mystery, intrigue, adventure and Romance. The volatile outcome is anyone's guess....
FriesenPress, 9781525561429, 378pp.
Publication Date: July 20, 2021