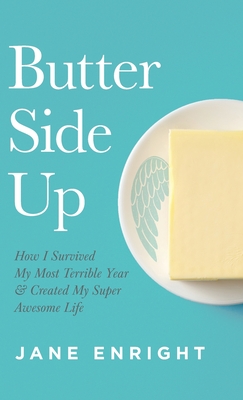 Butter Side Up
How I Survived My Most Terrible Year and Created My Super Awesome Life
Hardcover

* Individual store prices may vary.
Description
How often have you heard someone say "I hate change'? That's because most people do.

The reality is life puts us all through change: a series of events some challenging, and many joyful-that shape our day-to-day experiences. Sometimes though, in the blink of an eye, the unthinkable can happen. This begs the question: when the unexpected occurs, how do you successfully navigate change so you can land butter side up when life turns the tables?

Butter Side Up is not self-help jargon-it is edutainment for the soul. This compelling, riveting true story reviews an ordinary heroine's extraordinary journey as she traverses sudden, catastrophic change: surviving three lifealtering events in the span of twelve months, losing everything, coming out the other end stronger and more resilient than ever before.

Butter Side Up is a feel-good story we can all relate to and learn from it shows us there can be happiness and joy after unplanned change-and a super awesome life too.
FriesenPress, 9781525580222, 240pp.
Publication Date: November 18, 2020
or
Not Currently Available for Direct Purchase