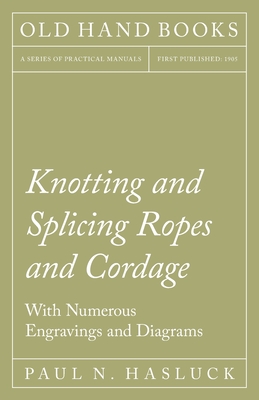 Knotting and Splicing Ropes and Cordage - With Numerous Engravings and Diagrams
Paperback

* Individual store prices may vary.
Other Editions of This Title:
Paperback (8/1/2012)
Paperback (1/8/2019)
Description
"Knotting and Splicing Ropes and Cordage" is a 1905 guide to knot tying by Australian writer Paul Hasluck. Knots have been the subject of interest for their ancient origins, their common uses, and the area of mathematics known as knot theory. This fascinating volume takes a look at the history of knots before taking a practical look at the subject, offering tips for beginners and simple instructions for making a variety of useful and interesting knots. This volume will appeal to anyone with an interest in the subject, and it would make for a fantastic addition to any collection. Paul Nooncree Hasluck (1854 - 1916) was an Australian engineer and editor. He was a master of technical writing and father of the 'do-it-yourself' book, producing many books on subjects including engineering, handicrafts, woodwork, and more. Other notable works by this author include: "Treatise on the Tools Employed in the Art of Turning" (1881), "The Watch-Jobber's Handy Book" (1887), and "Screw-Threads and Methods of Producing Them" (1887). Many vintage books such as this are increasingly scarce and expensive. It is with this in mind that we are republishing this volume now in an affordable, modern, high-quality edition complete with a specially-commissioned new biography of the author.
Old Hand Books, 9781528703048, 170pp.
Publication Date: January 17, 2018