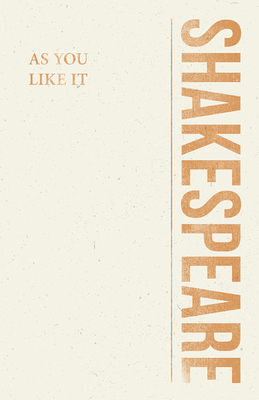 As You Like It
Paperback

* Individual store prices may vary.
Other Editions of This Title:
Paperback (11/14/2019)
Paperback (6/16/2020)
Paperback (11/22/2018)
Paperback (12/18/2016)
Paperback (12/4/2020)
Paperback (11/9/2020)
Paperback (11/8/2020)
Paperback (12/30/2020)
Paperback (3/1/2020)
Paperback (2/16/2021)
Paperback (11/30/2020)
Paperback (8/8/2020)
Paperback (6/8/2019)
Paperback (1/26/2014)
Paperback (12/17/2020)
Paperback (7/27/2018)
Paperback (5/25/2016)
Paperback (1/1/2014)
Description
Classic Books Library presents this new beautiful edition of William Shakespeare's play, "As You Like It". Featuring a specially commissioned new biography of William Shakespeare, it is a must for Shakespeare enthusiasts and newcomers alike. This is a witty tale that plays with traditional gender roles whilst dealing with the politics of brotherhood. Feuding brothers Orlando and Oliver wrestle for their fortunes, and Orlando meets his love, Rosalind. Daughter of a banished Duke, Rosalind is exiled too and ventures into the Forest of Arden after her father, but under the safer guise of a man. Dressed as her male alter ego, Ganymede, she encounters Orlando who, ignorant of her disguise, is fooled by Rosalind into a playful mind game. Oliver enters the forest to challenge his brother and the two must face each other again. William Shakespeare (1564 - 1616) was an English playwright, poet, and actor. He is considered to be the greatest writer in the English language and is celebrated as the world's most famous dramatist.
Classic Books Library, 9781528705141, 142pp.
Publication Date: May 22, 2018