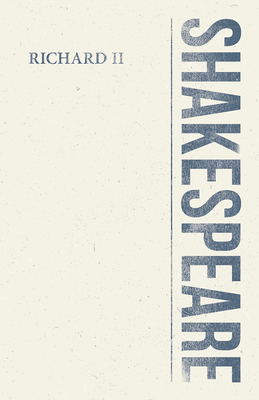 Richard II (Paperback)
Classic Books Library, 9781528705301, 138pp.
Publication Date: May 22, 2018
Other Editions of This Title:
Digital Audiobook (6/14/2008)
Paperback (6/10/2019)
Paperback (6/11/2019)
Paperback (10/17/2019)
Paperback (9/5/2014)
Paperback (7/21/2018)
Paperback (11/29/2019)
Paperback (12/16/2019)
Paperback (7/31/2018)
Paperback (7/27/2018)
Paperback (5/17/2017)
Paperback (11/29/2019)
Paperback (9/2/2018)
Paperback (12/29/2019)
* Individual store prices may vary.
Description
Classic Books Library presents this new beautiful edition of William Shakespeare's play, "Richard II". This edition features a specially commissioned new biography of William Shakespeare. The play is the first in Shakespeare's tetralogy chronicling the successive reigns of Richard II, Henry IV and Henry V, and covers the battle for power between King Richard and Henry Bolingbroke (who would eventually be Henry IV). Embezzlement, exile and an uprising fail to restore Richard's place as King. Richard is depicted as feminine and weak, in contrast with the strong and masculine Bolingbroke. The play's implications on traditional expectations of men in society is an area of growing interest for contemporary scholars. William Shakespeare (1564 - 1616) was an English playwright, poet, and actor. He is considered to be the greatest writer in the English language and is celebrated as the world's most famous dramatist.