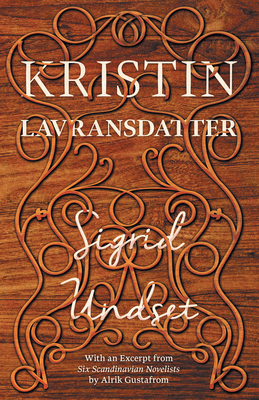 Kristin Lavransdatter
With an Excerpt from 'Six Scandinavian Novelists' by Alrik Gustafrom
Paperback

* Individual store prices may vary.
Other Editions of This Title:
Paperback (4/14/2009)
Paperback (9/27/2005)
Hardcover (6/27/1951)
Description
This vintage volume contains Sigrid Undset's seminal trilogy, "Kristin Lavransdatter". Following the story of a strong-willed heroine Kristin and her attempt to rebuild her life in the wake of the Black Death, Undset interlaces the political, social, and religious past, with day-to-day familial life - in order to present a vibrant and profound illustration of fourteenth-century Norway. This fantastic trilogy is highly recommended for those with an interest in medieval Scandinavia and constitutes a must-read for fans of Undset's wonderful work. Sigrid Undset (1882-1949) was a Norwegian novelist who was awarded the Nobel Prize for Literature in 1928. The original books were first published between 1920-1922 and Read & Co. Books is now republishing this fantastic novel complete with an excerpt from 'Six Scandinavian Novelists' by Alrik Gustafrom.
Read & Co. Books, 9781528717144, 946pp.
Publication Date: May 27, 2020