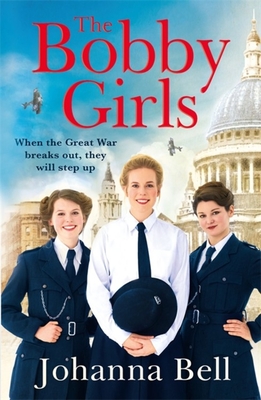 The Bobby Girls (Paperback)
Hodder, 9781529330854, 336pp.
Publication Date: May 19, 2020
* Individual store prices may vary.
Description
1914. While their men fight in France, at home in Britain women are finally seizing the opportunity to make a difference . . .
Maggie and her new friends Annie, Irene and Sarah come from very different backgrounds, but they've got one thing in common: they've all signed up for the Women Police Volunteers. They can't wait to show the men just what they're made of.
But soon, Maggie realises she's in over her head. Hiding her involvement with the WPV from her tyrannous father is becoming ever more difficult, and when she bumps into an old acquaintance with a big chip on his shoulder, the dangers of her new life become all too clear . . .
As Maggie and the girls work together to find their feet on the beat, will their friendship get her through the darkest of times?
A gritty, uplifting new saga series about the first ever female police officers, set at the outbreak of the First World War - perfect for fans of Dilly Court, Daisy Styles and Call the Midwife.
Praise for THE BOBBY GIRLS:
Filled with richly drawn characters that leap from the page, and a plot that's so well researched and well written you will believe you are in the thick of wartime policing, The Bobby Girls is a must-read for all saga fans.' - Fiona Ford, bestselling author of Christmas at Liberty's
'I really enjoyed reading about Britain's first female police officers. A lot of research has gone into this book and it's all the richer and more readable for it. An exciting new voice in women's fiction.' - Kate Thompson, bestselling author of Secrets of the Singer Girls
'A well-researched and interesting story giving a great insight into early women's policing.' - Anna Jacobs, bestselling author of the Ellindale series
'Written with warmth and compassion, the novel gives fascinating insights into the lives of three courageous young women.' - Margaret Kaine, RNA award-winning author of Ring of Clay
'Johanna Bell has hit the jackpot with this striking WW1 crime story. The author places the focus firmly on the girls' growth into independent members of society in a rapidly changing world. It's a heartening central message conveyed with verve and empathy and remains relevant to today's readers, both young and old.' - Jenny Holmes, author of The Spitfire Girls
'A lovely story! The author has researched the era and the theme very well. The characters stood out on the page and through their eyes you are transported back to a different age.' - AnneMarie Brear, author of Beneath a Stormy Sky
About the Author
Johanna is a freelance journalist living in Surrey with her husband, daughter and dog. She developed a passion for learning about the wars after chatting to her granddad about his experiences in World War Two.
Praise For The Bobby Girls…
A lovely story! The author has researched the era and the theme very well. The characters stood out on the page and through their eyes you are transported back to a different age.—AnneMarie Brear, author of Beneath a Stormy Sky

Written with warmth and compassion, the novel gives fascinating insights into the lives of three courageous young women.—Margaret Kaine, RNA award-winning author of Ring of Clay

This is a story that needed to be told. As a former Special Constable, I love Johanna Bell from the bottom of my heart for giving a voice to the women who first made a way for me ? and countless others like me - to work as real police officers in the service of our communities. Let us not forget the fight that these women had just to be allowed to put on the uniform, and do what was right; in their own small way, the first Bobby Girls changed the world for women everywhere.—Penny Thorpe, author of The Quality Street Girls

This fantastic debut from Johanna Bell is a wonderfully warm story of courage, friendship and grit. Filled with richly drawn characters that leap from the page, and a plot that's so well researched and well written you will believe you are in the thick of wartime policing. The Bobby Girls is a must read for all saga fans.''This fantastic debut from Johanna Bell is a wonderfully warm story of courage, friendship and grit. Filled with richly drawn characters that leap from the page, and a plot that's so well researched and well written you will believe you are in the thick of wartime policing. The Bobby Girls is a must read for all saga fans.—Fiona Ford, bestselling author of Christmas at Liberty?s

Johanna Bell has hit the jackpot with this striking WW1 crime story set in 1914 when women special constables first appeared on the streets of London. The central characters are strongly established early on as the young women who volunteer to patrol the streets. Alongside their crime solving role, the author places the focus firmly on the girls' growth into independent members of society in a rapidly changing world. It's a heartening central message conveyed with verve and empathy and remains relevant to today's readers, both young and old.—Jenny Holmes, author of The Spitfire Girls

I really enjoyed reading about Britain's first female police officers. A lot of research has gone into this book and it's all the richer and more readable for it. An exciting new voice in women's fiction.—Kate Thompson, bestselling author of Secrets of the Singer Girls

I really did enjoy The Bobby Girls. It has a lovely warm feeling about it and is excellently written.—Maureen Lee, RNA award-winning author of Dancing in the Dark

A well-researched and interesting story giving a great insight into early women's policing.—Anna Jacobs, bestselling author of the Ellindale series