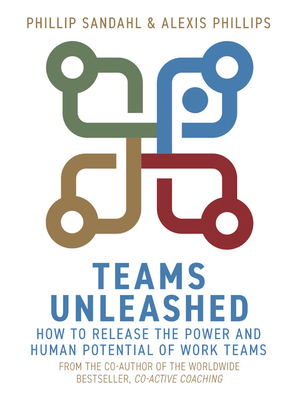 Teams Unleashed (Paperback)
How to Release the Power and Human Potential of Work Teams
Nicholas Brealey, 9781529337044, 288pp.
Publication Date: October 8, 2019
* Individual store prices may vary.
Description
FROM THE CO-AUTHOR OF THE WORLDWIDE BESTSELLER, Co-Active Coaching, Fourth Edition: The proven framework for transformative conversations at work and in life

Teams Unleashed provides a map and compass for engaged, sustainable, and improved team performance. This practical approach uses the everyday language of teams to highlight what's working, and uncover what's not, and gives teams the tools to to incorporate new practices that build team effectiveness. This is an approach proven in the real world of teams since 2005 and used by thousands of teams worldwide. The steps outlined are based on the fundamentals of coaching-a powerful, repeatable process to support and empower change that makes a difference. Teams Unleashed introduces the five core competencies for working effectively with teams, describes the essential team coaching skills and provides exercises and activities to generate the important conversations that lead to new understanding and new team norms. This is a book for those who work with and lead teams: team and executive coaches, internal HR, OD and L&D professionals, and team leaders. This is an approach that gives teams a way to get clear "We are here"; the tools to design "Where we go from here"; and the structure and accountability to stay on track for team success.
About the Author
Phillip Sandahl is an internationally-recognized consultant/coach, trainer, and author. As CEO of Team Coaching International, Phil is responsible for the design and delivery of all TCI training worldwide, He has coached teams in North America, Europe, and Asia, including at Bank of America, Cisco, Bayer, ING, the US Navy and US State Department. He is a sought-after speaker on team performance and team trends, and is co-author of the worldwide bestseller, Co-Active Coaching.

Alexis Phillips is founding partner of Team Coaching International and a co-developer of the company's Team Diagnostic suite of diagnostic tools. As an expert in team development for more than 20 years, she has served a full spectrum of clients, including Oracle and Microsoft. She is the co-founder of the Team and Work Group Coaching special interest group for the International Coach Federation, a member of the Society for Human Resource Management (SHRM) and the American Society for Training & Development (ATD).


Praise For Teams Unleashed: How to Release the Power and Human Potential of Work Teams…
"The drive to deliver team performance is relentless. The tools to get there are few. With Teams Unleashed, Sandahl and Phillips have given us a clear, practical map for more productive team results and truly engaged team culture. It's an exceptional resource for those who work with or lead teams."—Marshall Goldsmith is the New York Times #1 bestselling author of Triggers, Mojo, and What Got You Here Won't Get You There

"In Teams Unleashed, authors Phillip Sandahl and Alexis Phillips provide a ground-breaking, proven and accessible approach to freeing the phenomenal power and potential of teams. A wonderful book and a great approach to working with teams of people!"—Karen and Henry Kimsey-House, Cofounders, The Co-Active Training Institute and co-authors of Co-Active Coaching: The Proven Framework for Transformative Conversations at Work and in Life

"Team coaching is becoming an established discipline and needs practical guides to good practice from highly experienced practitioners, which is exactly what this book provides!"—David Clutterbuck, author of Coaching the Team at Work

"Teams Unleashed provides a structured and tangible framework to address team high performance from a fundamentally human level and system view. I believe this book will be beneficial for HR and team leaders to build new strengths on teams. It will bring in new perspectives on team dynamics and clear factors on where to focus for team success. It provides practical guidance for those new to team coaching and experienced coaches as well."—Xie Xue, Talent Development Expert, Bayer (China) Limited

"Phillip Sandahl and Alexis Phillips offer practical wisdom for individuals who want to sharpen their skills in the work of developing team performance. They share invaluable insights and lessons, from identifying teams that are ready for coaching, to creating supportive structures for elevating team practice."—Ruth Wageman, PhD, co-author of Senior Leadership Teams