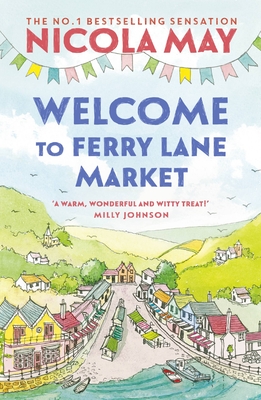 Welcome to Ferry Lane Market
Paperback

* Individual store prices may vary.
Description
Bestselling sensation Nicola May is back with a brand new series!

'Delightful and witty with a heroine you'll be rooting for . . . joyful escapism' Milly Johnson

'Spirited, adventurous and full of heart!' Heidi Swain

Although thirty-three-year-old Kara Moon loves her hometown of Hartmouth in Cornwall, she has always wondered if she should have followed her dream of going off to study floristry. But she couldn't bring herself to abandon her emotionally delicate single father, and has worked on Ferry Lane Market's flower stall ever since leaving school.

When her good-for-nothing boyfriend cheats on her and steals her life savings, she finally dumps him and rents out her spare room as an Airbnb. Gossip flies around the town as Kara welcomes a series of foreign guests to her flat overlooking the estuary.

Then an anonymous postcard arrives, along with a plane ticket to New York. And there begins the first of three trips of a lifetime, during which she will learn important lessons about herself, her life and what she wants from it - and perhaps find love along the way.

More praise for Nicola May!

'This book will twang your funny bone & your heartstrings' - Milly Johnson
'A fun and flighty read' - Sun
'A funny and fast-paced romp - thoroughly enjoyable!' WOMAN Magazine
'One of those books that I can't stop thinking about way after I've read it! - Kim The Bookworm
'This book is so addictive that you will literally lose 3 hours of your life, and you won't care!' - Cara's Book Boudoir

Readers love Nicola May, too!

'A FABULOUS must-read' - 5 STARS
'An excellent book of friendship - with a little wickedness!' - 5 STARS
'Good for the soul' - 5 STARS
'I loved it and devoured it in a matter of days' - 5 STARS
'A wonderful, feel-good novel with some grit thrown in' - 5 STARS
'Marvellous, beautiful and heart-warming' - 5 STARS
'Sea, sand and sex - a soppy delight' - 5 STARS
'A truly lovely book' - 5 STARS
'Fun and whimsy, plus a dog!' - 5 STARS
'Nicola May is a brilliant, relevant writer for today, exposing today's issues with tenderness, and always demonstrating a warm, human, heartfelt response' - 5 STARS
Praise For Welcome to Ferry Lane Market…
PRAISE FOR WELCOME TO FERRY LANE MARKET:

Delightful and witty with a heroine you'll be rooting for . . . joyful escapism - just what we all need . . . A warm, wonderful and witty treat!—Milly Johnson

Spirited, adventurous and full of heart!—Heidi Swain, Sunday Times bestselling author of Sleigh Rides and Silver Bells at the Christmas Fair

Emotional, heartwarming and great fun!—Julie Houston, author of A Village Affair

Full of heart, hope, friendship, family and laughter, and a plot with a mystery gagging to be solved. WELCOME TO FERRY LANE MARKET is a brilliant start to a wonderful new series. I absolutely adored it.—Kim Nash, author of Sunshine and Second Chances

My goodness me, what a read! A page-turning story full of love, family, and humour—Katie Ginger, author of Winter Wishes at Swallowtail Bay

I now want to go and live in Ferry Lane market! This book held me captive—Sue Moorcroft

Warm and wonderful. I fell in love with Ferry Lane Market and didn't want to leave.—Alex Brown

Nicola May brings the sights, sounds and characters of Cornwall to life . . . Larger than life characters and a whole lot of seaside . . . Sweeter than a 99 ice cream—Mandy Baggot

A beautiful Cornish setting full of lively characters—Rachel Dove

This tale is full of sparkle and wit—Woman's Own
Hodder, 9781529346442, 384pp.
Publication Date: May 17, 2022
About the Author
Nicola May writes 'chick lit with a kick' and is the internationally bestselling author of eleven romantic comedies. All have appeared in the Kindle bestseller charts. The Corner Shop in Cockleberry Bay became the best-selling Kindle book in the UK across all genres in January 2019 and March 2020 respectively. It was also the second best-selling eBook of 2019 in the UK. Nicola's books have also been sold in many languages.