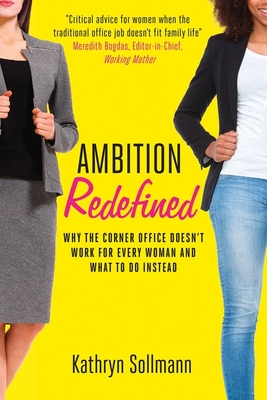 Ambition Redefined
Why the Corner Office Doesn't Work for Every Woman & What to Do Instead
Paperback

* Individual store prices may vary.
Other Editions of This Title:
Hardcover (10/9/2018)
Description
"This is the playbook for how to get flexibility in your career." - Molly Beck, author, Reach Out and founder of MessyBun.com

"Critical advice for women when the traditional office job doesn't fit family life." - Meredith Bodgas, Editor-in-Chief, Working Mother magazine

"Sollmann advocates that we 'lean in' to what she aptly labels one's own personal measure of success, rather than a monolithic vision of the ideal career."-- Whitney Johnson, critically-acclaimed author, Build an A Team and Disrupt Yourself, Thinkers50 Management Thinkers

Ambition Redefined is a timely alternative to current women's business books that define professional ambition and success as climbing the corporate ladder. In fact, this is not a path that all women want or should feel pressured to follow. Sollmann's focus is on the more critical and widespread workplace issue for everyday women -- to always work in a way that fits their lives alongside their two major caregiving roles: for children and aging parents.

Sollmann debunks common assumptions such as:

IT'S NOT "WORTH IT" UNLESS THE SALARY IS HIGH. Women forfeit up to 4X their salaries every year out of the workforce to care for children and/or elderly parents--and it does not take a six-figure salary to achieve long-term financial security.

FINDING FLEXIBLE WORK IS IMPOSSIBLE. Sollmann shines a bright light on the ever-widening world of flexwork--where women can find many interesting and exciting ways to tuck all generations of their families into a future that is financially secure and safe. The book includes realistic, practical tools for preparing for and finding flexible work within a current job or a new opportunity.

IT WON'T HAPPEN TO ME. Divorce, death of a spouse, or unexpected financial support for aging parents are some of the life "you never knows" that all women could experience. Divorce, death of a spouse, caring for aging parents or adult children are some of the life "you never knows" that all women could experience. Sollmann encourages women to anticipate and buffer life surprises and she shows the profound impact of continual earning, saving, and investing toward a long and comfortable retirement.

WORK ENDS AT AGE 65. Women who leave the workforce and want to return in their forties, fifties or sixties will be in good company as the ranks of older workers rise. Over the next two decades, adults age 50 and over will have greater rates of workforce participation into their sixth and seventh decades.

Eye-opening and practical, the book shows that when we redefine ambition, we acknowledge that challenging, lucrative work can be found in many flexible ways that favor personal satisfaction over public applause.



Praise For Ambition Redefined: Why the Corner Office Doesn't Work for Every Woman & What to Do Instead…
"Moms' family schedules don't always meld with a 9-to-5, in-office, 5-day-a-week job, which is why the advice here is critical, so mothers can keep caring for their children and gain financial stability."—Meredith Bodgas, Editor-in-Chief of Working Mother magazine

"As Sollmann wisely advises, when it comes to work it's not about leaning in or out but leaning in the direction of financial security. Combine this with myriad other suggestions for how you can re-define how you work and how much you earn and you'll find yourself on a path that leads to a fulfilling and stable future on your terms. It's a great read for women of all ages and career stages."—Lois P. Frankel, Ph.D., author of Nice Girls Don?t Get the Corner Office, Nice Girls Don?t Get Rich, and Nice Girls Just Don?t Get It

"In Ambition Redefined, Kathryn Sollmann makes a compelling case for women to remain in the workforce despite their variable seasons of caregiving. It's a reminder that the first purpose of employment is to provide a livelihood and secure our financial future and that it's difficult to change the world when our personal corner of it is fraught with financial uncertainty. Sollmann advocates that we 'lean in' to what she aptly labels one's own personal measure of success, rather than a monolithic vision of the ideal career, an effort which assuredly does not require that every woman aspires to the C suite, or even to uninterrupted full-time employment."—Whitney Johnson, critically-acclaimed author, Build an A Team and Disrupt Yourself, Thinkers50 Management Thinkers

"Balance is bunk! But creating greater harmony among the different domains of life is possible. Sollmann's Ambition Redefined, which offers a clear path to realizing how you can make flexwork a real and enriching part of your life, is an essential guide for getting there."—Stew Friedman, founder of the Wharton Work/Life Integration Project and author of Total Leadership

"Women, especially those acting as caregivers, don't need to view their careers in terms of two stark choices: either opt out entirely or aim for the C-suite. Opportunities are growing every year for women to engage in the workforce in a flexible way. Flexible and remote work options help women stay professionally active and financially on-track before, during, and after those caregiving years. In my experience in the flexible job market over more than a decade, I've seen first-hand exactly what Kathryn Sollmann is recommending. Professional, high-quality flexible jobs do exist for every age and stage, and this book shares fantastic information and advice for women to find them."—Sara Sutton Fell, CEO of FlexJobs

"Ambition Redefined challenges assumptions: that it's impossible to do challenging work while raising a family and, if you're not gunning for the C-Suite, you're letting down the sisterhood. Sollmann is reassuring that work need not be all or nothing, but she's also advancing a radical notion that will change women's lives: earning money is part of caring for a family. We serve our families by fitting some sort of paid work into our lives, every step of the way."—Laura Vanderkam, author, I Know How She Does It and Off the Clock: Feel Less Busy While Getting More Done

"Kathryn Sollmann doesn't pull punches in her provocative new book. Ambition Redefined is a must-read for women of all ages, as they navigate their careers and make crucial choices about what kind of work fits their life stage. Earning a paycheck is your power. Never give that up. This smart guide is a wake-up call that underscores the fact that being in control of your financial life is non-negotiable. "—Kerry Hannon, New York Times columnist, career and personal finance expert and author of Money Confidence: Really Smart Financial Moves for Newly Single Women and Great Jobs for Everyone 50+

"Finally! A smart book for women who want to balance meaningful work and caretaking obligations -without sacrificing their long-term financial security. Chock full of practical advice, tested strategies and vetted resources; Ambition Redefined is a must-read that will guide your work-life choices at pivotal moments throughout your career."—Nancy Collamer, Founder of MyLifestyleCareer.com and author of Second-Act Careers

"In Ambition Redefined, Kathryn shares her extensive knowledge and incredible hands-on experience as a woman entrepreneur and flex activist! Her goal is to boost women's confidence to choose paths that combine work and other life activities in positive ways. If you want to understand, explore, and pursue new models of working, this book is a must for you!"—Sophie Wade, Workforce Innovation Specialist, Flexcel Network, Speaker, Author, Embracing Progress

"This is an important topic and I applaud Sollmann for having the courage to advocate for a new type of feminism. In Ambition Redefined she explains how women who stay in the workforce, even in part-time positions with lower pay, make big contributions to the long-term financial security of their families. She discusses different ways women can find flexwork to pursue their own versions of success, pursuing fulfilling work that better fits their lives."—Beth Cabrera, Ph.D., author, Beyond Happy: Women, Work, and Well-Being

Ambition Redefined is a great resource-a comprehensive book that provides essential, must-know information for women of all ages who want straightforward answers about different flexwork options, the repercussions of gap years, financial issues surrounding elder and childcare roles, and how to plan long-term for future financial challenges. Sollmann's approach helps women ask the right questions and find their own unique answers and solutions.—M. Cindy Hounsell, President, Women's Institute for a Secure Retirement (WISER)

"In Ambition Redefined Kathryn Sollmann says the unsayable: it's not mere power that we need to help women achieve at work, it's the power to engage in consistent workplace participation. Kathryn points out that companies truly embracing flexwork are ushering in a new type of feminism; one that allows for women to truly protect themselves financially, engage in meaningful work AND tend to the relationships (be they with children or aging parents) that make life worth living. So forget trying to figure out whether to "lean in" or "lean out." Instead read Ambition Redefined and learn how to sway, how to flex your career, so you can blend money and meaning together in the proportions that create the life you really want to live."—Manisha Thakor, Founder of MoneyZen.com & Author, On My Own Two Feet: A Modern Girl?s Guide to Personal Finance

"Kathryn Sollmann has a way of sharing the facts about the deep financial need for women to keep a foot in the workplace, but also giving 'been there, done that' advice on how to make it work when managing a family. This is the playbook for how to get flexibility in your career. I can't think of a mom who wouldn't benefit from having this smart book on their bookshelf."—Molly Beck, author, REACH OUT and founder of MessyBun.com
Nicholas Brealey, 9781529359145, 288pp.
Publication Date: November 3, 2020
About the Author
Kathryn Sollmann is a recognized leader in helping women navigate the many stages of work and life. Through her blog and coaching firm, 9 Lives for Women, she is one of few voices strongly encouraging women to always work - at every age and life stage - to achieve long-term financial security. Her emphasis on women's financial independence has generated event-sponsorship funding from corporate wealth-management giants, including AXA Advisors, Fidelity, Raymond James, Cigna and Wells Fargo. With good humor, no-nonsense delivery and the ability to educate and motivate, Kathryn is a frequent speaker, and an inspirational voice for women in college to retirement years. A frequent media resource, her expertise has been featured by the Wall Street Journal, the New York Times, the Financial Times, Cheddar TV, WCBS Radio, Yahoo! Finance, ForbesWomen, Next Avenue, Wharton Business Radio, CEO World Magazine, Entrepreneur, Quartz at Work, the American Management Association and more. Ambition Redefined has been called a "Business Book to Watch" by 800-CEO-READ.