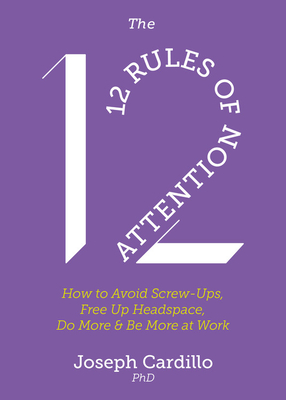 The 12 Rules of Attention
How to Avoid Screw-Ups, Free Up Headspace, Do More and Be More At Work
Paperback

* Individual store prices may vary.
Description
Do you feel like you're "crushing it?" How productive, happy and fulfilled do you feel each day at your job? You might ask what attention has to do with it. The answer may help clear up and fix a wide range of ongoing workplace concerns including workplace error. Simply put, attention is connected to every single thing you think, feel and do at work and elsewhere. It's almost impossible to imagine, but by the end of this book you'll not only understand how this is so, but you will be tapping into your attentional system and regulating it to your highest advantage.
The 12-Rules of Attention
will help you train your attention to sharp, accurate, high definition...and keep it there. You'll learn:
How to use the entire attentional system, beyond just focus (which is only one part)
How to avoid fading out
Awareness, mindfulness and attention are not the same thing and how and when to employ each
A process to relieve data overflow, internal and external distraction
How to use "in a glance" mental capacity to "catch" more desired detail
How to regulate the brain's automatic, high-speed attention triggers and use them to your advantage

Praise For The 12 Rules of Attention: How to Avoid Screw-Ups, Free Up Headspace, Do More and Be More At Work…
"Interesting, mind expanding concept. So many of the key ingredients to health, fitness & wellbeing are in our thoughts but we have to pay attention- got to be aware that we're aware! Dr. Cardillo, former guest on The Sports Doctor, hits a mindfulness homerun with The 12 Rules of Attention! "
—Dr. Bob Weil, Sports Podiatrist, Host of ?The Sports Doctor? Radio Show, 2019 Inductee National Fitness Hall of Fame

"Amazing! Joseph's latest work on attention, an outstanding feat based on his longtime scientific research and practical experience, seems 'magical'. You can realize its magic immediately as you put its 12 Rules into practice. There will be quite unexpected positive turns in your career."—Shintaro Yukawa, Ph.D., Professor at Hakuoh University, Chairperson of Japan Society for Research on Emotions, Translator of Japanese version of Be Like Water

" 'Keep a Little Soul' could be a subtitle for this beautiful book, The 12 Rules of Attention, by Joseph Cardillo, PhD. The myriad of ways to successfully develop attention and focus are artfully and skillfully advanced in a stepwise approach. Join in the good humor and fun to develop your better brain while you keep a little soul."—Ernest Rossi, PhD, and Kathryn Rossi, PhD, authors of the 16 volumes of The Collected Works of Milton H. Erickson, MD

"The Statue of Liberty says, 'Give me your tired, your poor, your huddled masses . . .' Dr. Cardillo says, 'Give me your tired, your distracted, your wandering mind . . .' He has clearly defined ways to clean out your cluttered thinking and improve your attention span. We all need that. I highly recommend this book to anyone who is involved in self-improvement or who wants to advance in the workplace."—Irene Conlan, MSN, PhD, The Self Improvement Blog
Nicholas Brealey, 9781529361995, 256pp.
Publication Date: July 14, 2020
About the Author
Dr. Joseph Cardillo is a recognized leader in holistic healthcare and a sought-after expert on body energy, attention training and creative thinking. He holds a PhD in holistic psychology and mind-body medicine. He is the author of several books in the fields of health, mind-body-spirit, and psychology, which have been translated into 10 languages. His most-notable work is the body-energy classic Be Like Water (2003). His most recent book Body Intelligence - Harness Your Body's Energies for Your Best Life (2015), received a starred review in Publishers Weekly and was a #9 Library Journal national bestseller. Football Hall of Famer Michael Strahan refers to Dr. Cardillo as his "energy guru" In his book Wake Up Happy (2015).
or
Not Currently Available for Direct Purchase