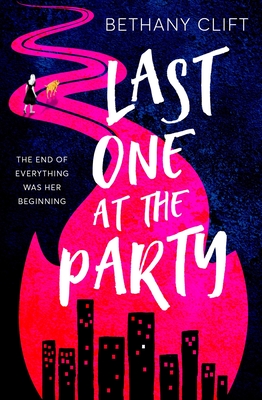 Last One At The Party
Hardcover

* Individual store prices may vary.
Description
THE END OF EVERYTHING WAS HER BEGINNING

It's December 2023, and the world as we know it has ended.

The human race has been wiped out by a virus called 6DM ('Six Days Maximum' - the longest you've got before your body destroys itself).

But somehow, in London, one woman is still alive. A woman who has spent her whole life compromising what she wants, hiding how she feels and desperately trying to fit in. A woman who is entirely unprepared to face a future on her own.

Now, with only an abandoned golden retriever for company, she must travel through burning cities, avoiding rotting corpses and ravenous rats on a final journey to discover if she really is the last surviving person on earth.

And with no one else to live for, who will she become now that she's completely alone?
Praise For Last One At The Party…
I adored this book . . . It's about who you are with nobody to witness you, what it means to be human, and how to live (the answer is getting plastered in Harrod's, something we can all relate to)—Gillian McAllister

Brilliant. Creepy, witty, laugh-out-loud and shudder-inducing—Harriet Walker, author of The New Girl

A fresh, frank, funny and surprisingly uplifting book about the end of the world.—Elizabeth Kay, author of Seven Lies

Finished this last night and haven't stopped thinking about it since! Possibly my fave read of 2020 - sharp, funny, emotional and a refreshingly different take on a post-apocalyptic world.—Lisa Hall, author of The Perfect Couple and Between You and Me

Really fun . . . like a dystopian Bridget Jones' Diary with echoes of Shaun of the Dead. —Kate Sawyer

This dystopian novel is very funny, super-gory but a testament to the human spirit, which is also oddly life-affirming...—Red Magazine
Mobius, 9781529379143, 368pp.
Publication Date: May 11, 2021
About the Author
Bethany Clift is a graduate of the Northern Film School, the producer of low-budget British horror film Heretic, and the Director of her own production company, Saber Productions. Last One At The Party is her debut novel.