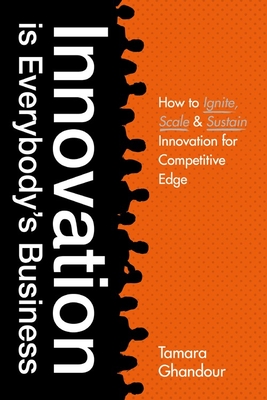 Innovation is Everybody's Business (Paperback)
How to Ignite, Scale, and Sustain Innovation for Competitive Edge
Nicholas Brealey, 9781529398151, 304pp.
Publication Date: May 5, 2020
* Individual store prices may vary.
Description
Tamara Ghandour, author, podcaster, keynote speaker and founder of innovation training company, LaunchStreet, used to believe that innovation was the domain of a select few, exclusive to certain industries, or relegated to a specific job role. But, as Tamara discovered in her 25 years of work and research, everybody has the capacity to innovate. It's a person's unique innovation style, (which can be assessed and channelled), that can transform inertia into innovation.

Drawing on eye-opening data from her proprietary Innovation Quotient Edge Assessment, Innovation is Everybody's Business is for those looking for solutions to the daily pain of "how do I prove my worth," a reality for many people whether they work in the C-Suite or on the front-lines. This book will resonate with those that recognize that being more innovative is their ticket to being indispensable. It is also for leaders under pressure to build a culture of innovation but don't know how. As organizations face pressure to innovate, the accountability for making it happen falls on senior and mid-level leaders. They are told what to do, but not how to do it. This book will give them a tool to build a team of innovators who make an impact every day in big and small ways.
About the Author
Tamara is the founder of LaunchStreet, an innovation training company that helps teams and organizations across the globe compete, and win, by tapping the power of innovation. She is also the creator of the ground-breaking Innovation Quotient Edge (IQE) Assessment, the only tool able to measure people's natural innovation strengths and deliver insights and tools for bringing more innovative ideas to the table, and building high-performance teams. At 27 Tamara was the youngest person ever named to leadership in a leading global advertising agency. Well-known brands like Cheerios, Clorox and Proctor & Gamble have benefited from Tamara's innovative approach. When companies like Disney, General Mills, RICOH, Hilton, and Red Robin want to increase their innovation quotient, they call Tamara. Her business innovation podcast, Inside LaunchStreet, which has featured Angela Duckworth and other well-known guests, has been downloaded nearly 50k times in less than a year. She has run multi-million dollar businesses and launched a few of her own, learning from her successes and, most importantly, her failures.
Praise For Innovation is Everybody's Business: How to Ignite, Scale, and Sustain Innovation for Competitive Edge…
"The world is full of innovators - you just have to recognize and understand how to work with the best. Tamara's book will help you unlock the potential that innovation presents."—Alex Goryachev, Managing Director, Cisco Innovation Centers

"if you want to unleash thinking, creativity, innovation from every member of your team, read and do what's in this book."
—David Marquet, Captain of nuclear submarine, USS Santa Fe, Author of Best-Selling Book Turn The Ship Around

"Tamara lays out exactly how to tap the competitive advantage hiding within all of us - our inner innovator and the ability to spark and foster a culture of innovation."
—Heather Kluter, Consumer Insights and Brand Strategy Champion

"Tamara does an awesome job of giving tangible tools for anyone looking to become more innovative. She removes the intimidating stigma that can come with the thought of being innovative and shows how everyone plays a role in innovation. By sharing real world stories from a variety of companies, she shows how innovation can take place within any company of any size."—Anthony Lambatos, President Footers Catering

In the 21st century, the status quo is not your friend. Tamara serves as a brilliant tour guide into the world of innovation - the world where we all now live, and breathe, and do our best work."—Steve Woodruff, King of Clarity

"Lessons from neuroscience show that each individual's specific use and set-up of architecture and chemistry is the most individualistic "fingerprints" we will ever own. Tamara eloquently deftly shows each of us how to access our own brand of innovation and how to unleash it on a world sorely in need of this wisdom."—Scott G. Halford, Wall Street Journal bestselling author of "Activate Your Brain

"Finally an innovation book that provides clear direction, examples, and exercises that can be put into action immediately. Thanks for making innovation accessible, Tamara!"—Wendy Winter, VP Business Leader, The Integer Group