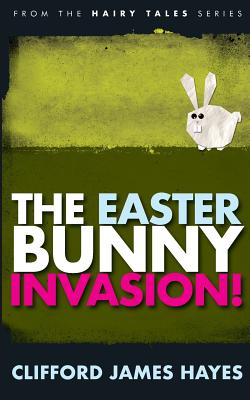 The Easter Bunny Invasion! (Paperback)
Createspace Independent Publishing Platform, 9781530101405, 166pp.
Publication Date: February 17, 2016
Other Editions of This Title:
Paperback (3/7/2018)
* Individual store prices may vary.
Description
Fans of quirky, irreverent humour will squeal with delight at The Easter Bunny Invasion For many, many years Mildred the Easter Bunny has delivered scrumptious Easter eggs to all the children of the world. But Foxington 'Foxy' McFox - the foxiest fox in all of Foxtown - wants to get his paws on Mildred's wondrous flying egg factory, and turn Easter into a disaster The Easter Bunny must seek help from Santa Claus, Clarence the Slug and a great many others - will Mildred and her friends save the day, or will Foxy's bunny invasion take over the world? The Easter Bunny Invasion is a great introduction to the bonkers mind of occasional author Clifford James Hayes. If you're not a frenzied, foaming-at-the-mouth fan of his books yet, you soon will be FULL SELECTION OF BOOKS AT: www.hayesdesign.co.uk/books.
About the Author
Clifford James Hayes is an occasional author and independent publisher, and has to date written and illustrated over a dozen books in different genres (childrens' tales, historical fantasy, comedic science fiction and biographical). His 'day job' is running his graphic design business (www.hayesdesign.co.uk) where his specialism is the design of books and cd/albums. Inspirations for his books include Roald Dahl, Monty Python, Rik Mayall, Spike Milligan and (most importantly) the mad outpourings of his son Phoenix, to whom all his books are dedicated. FULL SELECTION OF BOOKS AT: www.hayesdesign.co.uk/books