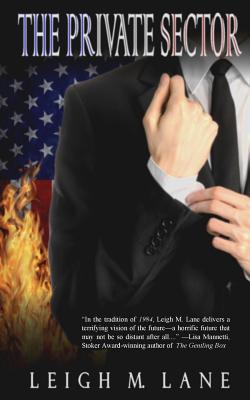 The Private Sector (Paperback)
Createspace Independent Publishing Platform, 9781530213429, 298pp.
Publication Date: April 8, 2016
* Individual store prices may vary.
Description
"In the tradition of 1984, Leigh M. Lane delivers a terrifying vision of the future--a horrific future that may not be so distant after all...."--Lisa Mannetti, Stoker Award-winning author of The Gentling Box and Deathwatch In this loose World-Mart prequel, the world of corporate greed runs rampant after the government's dissolution has left police, fire, and all other services in the hands of privatized businesses and wealthy investors. John and Dianne Irwin are doing everything they can to shield their son, Junior, from the world's ever-expanding corruption. Dianne's junkie sister and her cluelessly entitled parents don't help. Even more, Dianne's livelihood as a painter has been deemed obsolete, and the tighter money gets, the closer they find themselves a mere tragedy or illness away from ruin. With the class divide ever widening, debtor prisons for the lower and middle classes overflowing, disease ravaging the country, and resources running dry, the Irwins must survive the battleground generated by those who would crush the lower classes for their own gain and those who've waged a war against them, against a corrupt system ruled by The Private Sector. "The Private Sector is proof positive that horror literature is alive, well and has something to say. Leigh M. Lane has created a cautionary and gripping dystopian tale that exposes the reader to the horrific results of corporate greed run amok. It is a nightmarish vision of the future that is as compelling as it is unsettling. If you enjoy horror fiction with intelligence and profound insights into human nature, then this is a book for you." --Taylor Grant, Bram Stoker Award nominated author of The Dark at the End of the Tunnel.