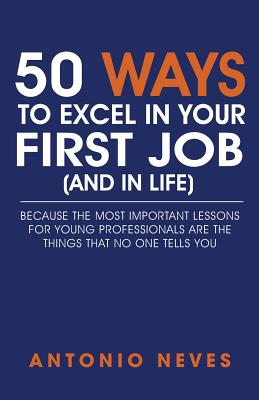 50 Ways to Excel in Your First Job (and in Life): Because the Most Important Lessons for Young Professionals Are the Things That No One Tells You (Paperback)
Because the Most Important Lessons for Young Professionals Are the Things That No One Tells You
Createspace Independent Publishing Platform, 9781530630134, 86pp.
Publication Date: April 5, 2016
About the Author
Antonio Neves is the leading voice on young professional success. A highly sought-after speaker, Antonio has delivered keynotes in corporate environments, to national trade associations and on college campuses nationwide. A first generation college student who earned a masters degree from an Ivy League institution, Antonio became an award-winning journalist working as a correspondent and producer with top television networks including NBC, PBS, BET Networks, and Nickelodeon. His writing regularly appears on Inc.com and Entrepreneur.com. Antonio is also the author of the best-sellers 50 Things Every College Student Should Know and Student Athlete 101: College Life Made Easy On & Off The Field. Antonio is a graduate of Western Michigan University and earned his master's degree from Columbia University.
Advertisement