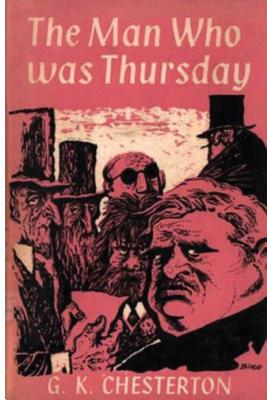 The Man Who Was Thursday (Paperback)
Createspace Independent Publishing Platform, 9781530636358, 90pp.
Publication Date: March 20, 2016
Other Editions of This Title:
Paperback (6/25/2018)
Paperback (5/16/2017)
Paperback (1/13/2017)
Paperback (5/18/2018)
Paperback (11/30/2016)
Paperback (10/10/2016)
Paperback (9/24/2015)
Paperback (9/19/2016)
Paperback (10/22/2017)
Paperback (9/20/2018)
Paperback (1/29/2007)
Paperback (10/13/2016)
Paperback (1/1/2009)
Paperback (11/7/2011)
Paperback (9/19/2017)
Paperback (6/19/2016)
Paperback (10/19/2018)
Paperback (10/15/2016)
* Individual store prices may vary.
Description
In "The Man Who Was Thursday," British writer G. K. Chesterton expounded prolifically about his wide-ranging philosophies. Chesterton is impossible to categorize as "liberal" or "conservative" across a wide variety of avenues: he was a literary critic, historian, playwright, novelist, columnist, and poet. His witty, humorous style earned him the title of the "prince of paradox," and his works-80 books and nearly 4,000 essays-remain among the most beloved in the English language. Considered by many readers to be G. K. Chesterton's best work, "The Man Who Was Thursday" is an outrageous satire about a club of gentlemen in London at the turn of the 20th century who have vowed to destroy the world. Subtitled "A Nightmare," and bursting with Chesterton's trademark wit and abundant in surprising metaphors about religion, nature, and human civilization itself, "The Man Who Was Thursday" is a philosophical and ironic wonder, a delight to read and an even greater delight to ponder. G. K. Chesterton was one of the most influential English writers of the 20th century. His prolific and diverse output included journalism, philosophy, poetry, biography, Christian apologetics, fantasy and detective fiction. Time magazine, in a review of a biography of Chesterton, observed of his writing style: "Whenever possible Chesterton made his points with popular sayings, proverbs, allegories-first carefully turning them inside out."For example, Chesterton wrote the following: Thieves respect property. They merely wish the property to become their property that they may more perfectly respect it. Chesterton is well known for his reasoned apologetics and even those who disagree with him have recognized the universal appeal of such works as Orthodoxy and "The Everlasting Man," and "The Man Who Was Thursday.