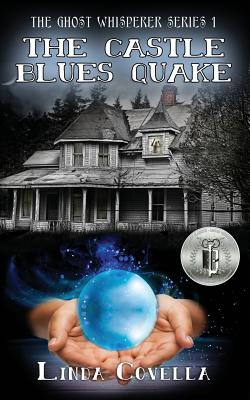 The Castle Blues Quake (Ghost Whisperer #1)
Paperback

* Individual store prices may vary.
Description
Silver Medal and Seal of Approval from Literary Classics: "Even the most reluctant readers will find this book intriguing...highly recommended for home and school libraries." 12-year-old Pepper Connelly leaves her best friend, Chrissie, behind when her family moves from New York City to Santa Cruz, CA. Pepper discovers a boy, Corey, hiding in her backyard shed. Unknown to Pepper, Corey is a ghost trying to contact his grandfather, Boppie, before he crosses over. He tells Pepper he must locate Boppie before Social Services finds him. Pepper agrees to help. While Pepper's communication with Chrissie dwindles, her friendship with Corey grows. She tells Corey about her passion for writing songs, and throughout the story, she composes a song about Corey. Corey teaches Pepper to play the harmonica. Soon, she's torn between finding Boppie and knowing when she does, Corey will certainly go back on the road with his traveling-musician grandfather. Other characters help her on her quest: new classmate Ally Cressman, who dresses in an odd-ball, non-mall style; Sawtooth Sam, the mysterious saw-playing street musician; and Madame Mchumba, who performs her psychic readings at the Boardwalk amusement park. Time travel, earthquakes, haunted house rides, poltergeists, and crystal ball readings propel Pepper toward the end of her search as she learns about the give and take, the heartache and joy, of true friendship.
Createspace Independent Publishing Platform, 9781530793082, 210pp.
Publication Date: July 20, 2014
About the Author
Linda Covella's varied background and education (an AA degree in art, an AS degree in mechanical drafting & design, and a BS degree in Manufacturing Management) have led her down many paths and enriched her life experiences. But one thing she never strayed from is her love of writing. Her first official publication was a restaurant review column for a local newspaper. But when she published articles for various children's magazines, she realized she'd found her niche: writing for children. She hopes to bring to children the feelings books gave her when she was a child: the worlds they opened, the things they taught, the feelings they expressed. She is a member of the Society for Children's Book Writers and Illustrators (SCBWI). She lives in Santa Cruz with her husband, Charlie, and dog, Ginger. No matter what new paths Linda may travel down, she sees her writing as a lifelong joy and commitment. Learn more about Linda and her writing at http: //lindacovella.com/