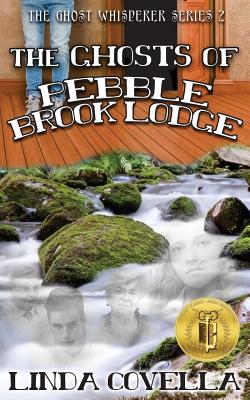 The Ghosts of Pebble Brook Lodge (Ghost Whisperer #2) (Paperback)
Createspace Independent Publishing Platform, 9781530805716, 232pp.
Publication Date: October 25, 2015
Other Editions of This Title:
Paperback (10/10/2015)
* Individual store prices may vary.
Description
In the rainy forest of the Santa Cruz Mountains, in the small town of Brookdale, in the long-uninhabited Pebble Brook Lodge...exist four ghosts who stand in the way of 13-year-old Pepper Connelly's search for the truth.Was Pepper's friend Willie responsible for his sister Karen's death? Pepper believes he's innocent, and has only two weeks to prove it.In this sequel to the award-winning The Castle Blues Quake, Pepper's chef parents take her and her little sister Sage on another restaurant venture to renovate the Pebble Brook Lodge. With her Ghost Whisperer powers, Pepper slowly discovers there are four ghosts, each with his or her own haunting agenda.One of the unique features of the lodge is a creek running through the large dining room. Pepper learns that in 1966 a thirteen-year-old girl, Karen, drowned in the creek. Her ten-year-old brother, Willie Hullett, was accused of being responsible for her death. Willie, now middle-aged, lives with his mother in a cabin in the woods. Mrs. Hullett has never forgiven Willie for her beloved daughter's death. As Pepper secretly becomes acquainted with Willie and sees his gentle nature and his beautiful life-like carvings, she's convinced he did not kill his sister. With the help of her friend Ally Cressman, Pepper sets out to prove Willie's innocence. With Ouija board sessions, hauntings by four different ghosts, and time travel to 1939 and 1966, Pepper discovers there's more to Karen's death than she--or anyone in Brookdale--would have ever guessed.
About the Author
Linda Covella's varied background and education (an AA degree in art, an AS degree in mechanical drafting & design, and a BS degree in Manufacturing Management) have led her down many paths and enriched her life experiences. But one thing she never strayed from is her love of writing. Her first official publication was a restaurant review column for a local newspaper. But when she published articles for various children's magazines, she realized she'd found her niche: writing for children. She hopes to bring to children the feelings books gave her when she was a child: the worlds they opened, the things they taught, the feelings they expressed. She is a member of the Society for Children's Book Writers and Illustrators (SCBWI). She lives in Santa Cruz with her husband, Charlie, and dog, Ginger. No matter what new paths Linda may travel down, she sees her writing as a lifelong joy and commitment. Learn more about Linda and her writing at http: //lindacovella.com/