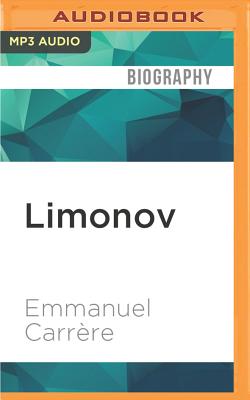 Limonov (MP3 CD)
The Outrageous Adventures of the Radical Soviet Poet Who Became a Bum in New York, a Sensation in France, and a Politi
Audible Studios on Brilliance, 9781531812492
Publication Date: June 14, 2016
Other Editions of This Title:
Paperback (10/6/2015)
Hardcover (10/21/2014)
* Individual store prices may vary.
Description
This is how Emmanuel Carrere, the magnetic journalist, novelist, filmmaker, and chameleon, describes his subject: "Limonov is not a fictional character. There. I know him. He has been a young punk in Ukraine, the idol of the Soviet underground; a bum, then a multimillionaire's butler in Manhattan; a fashionable writer in Paris; a lost soldier in the Balkans; and now, in the fantastic shambles of postcommunism, the elderly but charismatic leader of a party of young desperadoes. He sees himself as a hero; you might call him a scumbag: I suspend my judgment on the matter. It's a dangerous life, an ambiguous life: a real adventure novel. It is also, I believe, a life that says something. Not just about him, Limonov, not just about Russia, but about all our history since the end of the Second World War."
So Eduard Limonov isn't fictional--but he might as well be. This pseudobiography isn't a novel, but it appears like one: from Limonov's grim childhood to his desperate, comical, ultimately successful attempts to gain the respect of Russia's literary intellectual elite; to his immigration to New York then to Paris; to his return to the motherland. Limonov could be seen as a charming picaresque. But it could also be seen as a troubling counternarrative of the second half of the 20th century, one that reveals a violence, an anarchy, a brutality that the stories we tell ourselves about progress tend to conceal.
or
Not Currently Available for Direct Purchase