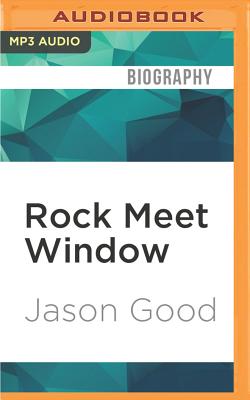 Rock Meet Window (MP3 CD)
A Father-Son Story
Audible Studios on Brilliance, 9781531817770
Publication Date: September 6, 2016
Other Editions of This Title:
Hardcover (5/5/2015)
* Individual store prices may vary.
Description
A funny and poignant memoir that delves into the magic, fails, and meaning of fatherhood. Humorist and family man Jason Good is an only child with an atypical story to tell. His isn't the usual rant about how hard it is to be a modern father or a tale about a damaging relationship with his father. Jason grew up with a charismatic, communicative, affectionate, and frustrated political science professor for a father - a man who taught him most everything about how to be a dad, how to live. Jason was figuring out how to parent his own two young boys when his dad was diagnosed with cancer and told he had nine months to live. That moment, and the year that followed, inspired Jason to tell the story of something he had always taken for granted: how his father had earned his true friendship and admiration in adulthood by the way he had parented him to manhood.
Jason Good's book shows how an imperfect father can be perfection in all the ways that matter in the end, moving us to alternately hoot and become wet eyed through his retelling of the friction points and lessons learned. Ultimately this book inspires us to reconsider our own relationships and to appreciate the power of fatherhood.
or
Not Currently Available for Direct Purchase